Vaccination efforts helped the state avoid a fourth wave of COVID-19 infections, leading — finally — to a date being set to when the state will reopen its economy after more than year's worth of pandemic restrictions.
The announcement made May 13 by Gov. Jay Inslee — pointing to a June 30 reopening date — was one everyone had been waiting for, though it comes with the usual caveats. If intensive care units see a rush of patients, plans will have to change. Details are still in the works on masking requirements for all occasions. Questions remain on whether the honor system will suffice when it comes to proof of vaccinations.
Business owners and workers, though, have started making plans with a degree of confidence that the rug will remain in place. Still to be seen is what pandemic-inspired workarounds will stick. Working from home, e-commerce, curbside pick up might be too convenient to simply fade away.
No one is yet sure whether the jobs left last year will return in quite the same form. Tourism, entertainment, hospitality, retail, hospitality and construction jobs will carve out new paths as the economy starts to take off. Businesses owners are rolling up their sleeves, more than ready to move forward, while keeping an eye out for new opportunities.
Here is a look at developments over the past month as the region stands on the brink of returning to normalcy:
Tuesday, April 20
Low-income families or individuals with past-due rent are eligible for up to six months of rent assistance through a new Chelan-Douglas Community Action Council program.
The mass-vaccination site at the Town Toyota Center adjusts to offer evening and weekend appointments for people who work during regular business hours, open to anyone 16 or older under the state's new eligibility expansion.
The Wenatchee Valley Misawa Sister City Association cancels its annual cultural exchange trip to Japan due to international COVID-19 regulations. A group of 22 from the Wenatchee area were signed up to fly to Japan for the trip that had been set for Aug. 13-22.
Wednesday, April 21
Organizers announce the East Wenatchee Classy Chassis Parade is set for June 11, lining up with the Apple Blossom Festival's pushed-out date.
The Town Toyota Center mass vaccination site begins accepting walk-in appointments.
Thursday, April 22
The state Legislature allocates $65 million to the Washington COVID-19 Immigrant Relief Fund to provide $1,000 per person to those who have been unable to receive federal COVID-19 relief due to their immigration status. Payments will be sent out by June 30.
COVID-19 cases and hospitalizations in Chelan and Douglas counties seem to be plateauing. Chelan County had 156.9 cases per 100,000 on April 21, down from 184.5 the week before. Douglas County 146.3 cases this week, down from 171.4 the previous week. A total of six people were hospitalized due to COVID-19 and one person was being treated in the intensive care unit as of April 23.
A growing percentage of COVID-19 variants is a concern. State health officials estimate up to 60% of the state's COVID-19 cases are likely due to the more contagious B.1.1.7. COVID strain.
Friday, April 23
The Chelan-Douglas Health District explains it hasn't updated the COVID-19 data on the website since April 19 because it doesn't have resources to collect and process the data. It is asking for help from the state Department of Health.
Sunday, April 25
Columbia Valley Community Health says it will resume use of the Johnson & Johnson COVID-19 vaccine after a review found it safe.
Tuesday, April 27
A proposal to send Wenatchee's middle and high school students back to classrooms full time is met with opposition by teachers and the majority of school board members. As a result, students in grades 6 through 12 will continue in hybrid instruction for the rest of the school year. Wenatchee students from kindergarten through fifth grade returned to classrooms full time on April 19.
Wednesday, April 28
Between 200 and 600 people a day were vaccinated last week at the Town Toyota Center mass vaccination site, down from 1,200 a day when eligibility opened to all age 16 and older on April 15. Health officials say it signals those who want to get vaccinated have either already been vaccinated or are starting the process. The next step is identifying people still hesitant or are encountering barriers to getting the vaccine. Approximately 45% of people in Chelan County have received the first dose of a COVID-19 vaccine, and around 38% of people in Douglas County.
New CDC guidance says people who are fully vaccinated against COVID-19 do not need to wear masks in some outdoor settings. Chelan-Douglas health officials urge the community to remain vigilant against COVID-19 and to get vaccinated.
Friday, April 30
The unemployment rate in Chelan and Douglas counties dropped to 5.9% in March, compared to 6.6% last year, but the region is still down 1,600 jobs.
Tuesday, May 4
Gov. Jay Inslee announces all counties will remain in their current reopening phases for two weeks, leaving Chelan, Douglas, Grant and Okanogan counties in Phase 3. The COVID-19 case rates in Chelan, Douglas and Okanogan counties would have qualified them to remain in Phase 3, but Grant County's numbers likely would have meant rolling back to Phase 2. The vaccination push is on, say county health officials.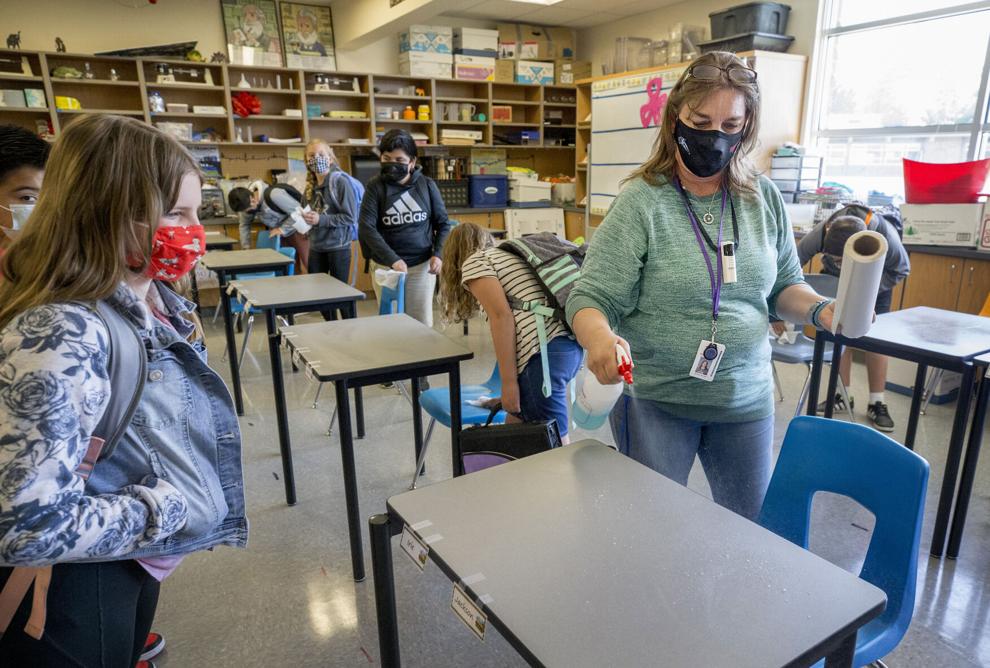 Wednesday, May 5
Eastmont School District's secondary students return to classrooms for full days for the first time in more than a year.
Friday, May 7
Chelan-Douglas Health District reports 28 COVID deaths in 2021, with 20 of those from Chelan County and eight from Douglas County. Among those 28, 12 were women and 16 were men. This brings the total number of COVID-deaths up to 65 in Chelan County and 19 in Douglas County since the pandemic started. 
Wednesday, May 12
The Western States Scientific Safety Review Workgroup says the Pfizer-BioNTech vaccine is safe for 12- to 15-year-olds. It follows the FDA's authorization on Monday.
Thursday, May 13
Gov. Jay Inslee announces the state is likely to lift most pandemic restrictions by June 30 and until then, starting May 18, all counties (including four currently in Phase 2) will operate in Phase 3 of the state's "Healthy Washington" restart plan. He promises a full reopening will occur sooner if the state reaches a 70% threshold of eligible people vaccinated with at least one dose, but cautions that restrictions will not lift if ICU capacity reaches 90%. Statewide, approximately 57% of people 16 and older have received the first dose of a COVID-19 vaccine. In Chelan County, around 60% of people 16 and older have received the first dose of a two-dose vaccine. Around 52% of people 16 and older have received the first dose of a COVID-19 vaccine in Douglas County.
The state adopts new masking guidelines issued by the U.S. Centers for Disease Control and Prevention, which do not require fully vaccinated individuals to wear a mask in most indoor and outdoor settings. Masks are still required in hospitals, long-term care facilities, doctors' offices, schools and public transportation.
The Chelan-Douglas Health District administers Pfizer COVID-19 vaccines for Wenatchee Valley College staff, students and their friends and families at a walk-in clinic at the Jack and Edna Maguire Student Rec Center. Second doses will be available at a second walk-in clinic on June 3.
Friday, May 14
Some employers offer paid time off, bonuses and a variety of incentives to their employees to get vaccinated.
Wenatchee and WestSide high schools plan in-person graduation ceremonies, though attendance is restricted to ticket holders. Wenatchee High School graduation is June 4 at the Wenatchee Apple Bowl. WestSide High School graduation June 8.
Wenatchee Valley College announces students will have more in-person class options this fall, with COVID-19 vaccinations encouraged, but not required.
Confluence Health moves its COVID-19 vaccination clinic from Central Washington Hospital to the COVID testing site at 615 N. Emerson Ave. The move is being made as providers at Confluence Health and across the state are seeing a drop in vaccine demand. The site has administered 14,772 first doses and 13,259 second doses as of May 11.
Saturday, May 15
About 200 students, age 12 and up, accompanied by their parents, get first doses of the Pfizer-BioNTech COVID-19 vaccines at Wenatchee High School. The vaccine clinic was organized by Columbia Valley Community Health in partnership with Wenatchee schools.