A year after COVID-19 arrived, North Central Washington residents and business owners are breathing a little easier, though no one knows for how long.
Vaccinations are underway and the region has moved into Phase 2 of the state's "Roadmap to Recovery" plan. Restaurants, movie theaters and other indoor venues received a tentative green light to reopen Feb. 14 — at 25% capacity — with a caveat that every two weeks, if case counts increase or hospitals start to fill up, the doors will have to close again.
At the same time, word of new virus variants is raising questions about the efficacy of current vaccines, which are still in short supply. Double masking is the latest innovation under discussion as the Wenatchee Valley Business World heads toward the press.
Schools, though, have welcomed back students, at least part-time, creating a whole new logistical challenge for teachers and parents. High school sports are gearing up. All are welcome signs of normalcy.
Looking back at the pandemic's first year, the region — like the rest of the country — has seen ups and downs and lessons learned. Change, and rapid change at that, has been one of the constants.
Here is a month-by-month review of how some of it played out: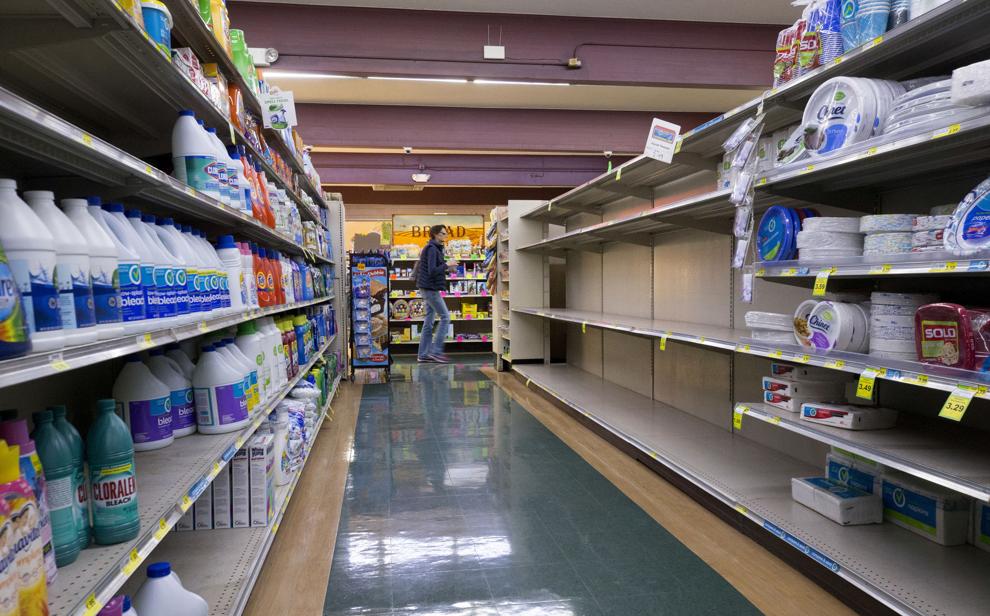 March | A quick introduction to the novel coronavirus
The first case confirmed in Snohomish County
Gov. Jay Inslee issues an emergency declaration
Quincy resident tests positive, the first case reported in Eastern Washington
Some Wenatchee Valley grocery store shelves empty out
Three days after testing positive, the Quincy resident dies at Central Washington Hospital. It was the first death east of the Cascades.
Event cancellations begin
School districts cancel indoor sports, close schools to visitors
Large gatherings (250 people or more) limited in King, Pierce and Snohomish counties, "social distancing" recommended to slow the spread of the virus.
Western Washington schools ordered closed starting March 17
Schools statewide ordered closed starting March 17. Cities, counties and other agencies postpone, suspend or move meetings online. Churches cancel in-person services.
Confluence Health opens a drive-thru testing operation
State orders two-week closure of restaurants, bars, bans gatherings of 50 or more
Hospitals and medical facilities postpone routine appointments and elective surgeries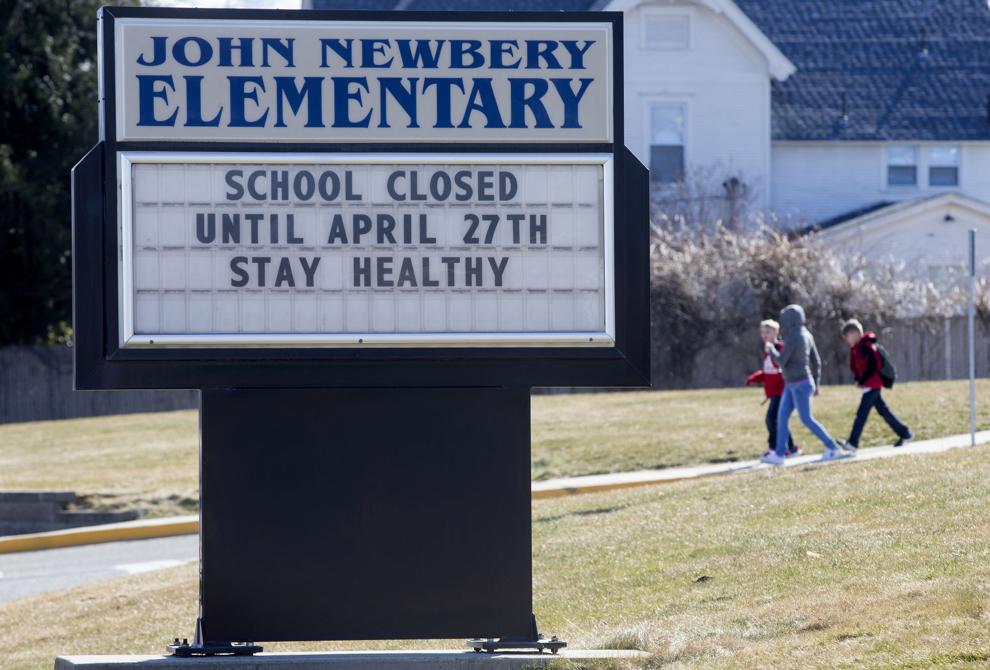 Chelan County reports first two positive cases
Schools start providing take-out lunches for students; grocery stores schedule special shopping times for at-risk shoppers.
Restaurants pivot to take-out and delivery
Toilet paper, flour, beans and canned goods in short supply on grocery store shelves
Jobless claims show first wave of shutdown impacts
Chelan County reports third confirmed COVID-19 case
Governor's "Stay at Home" order arrives
Douglas County reports first two cases
Food banks gear up for drive-thru distribution at the Town Toyota Center
Confluence Health receives 50 ventilators' health care providers waiting for personal protective equipment orders.
A second Chelan County resident dies from COVID-19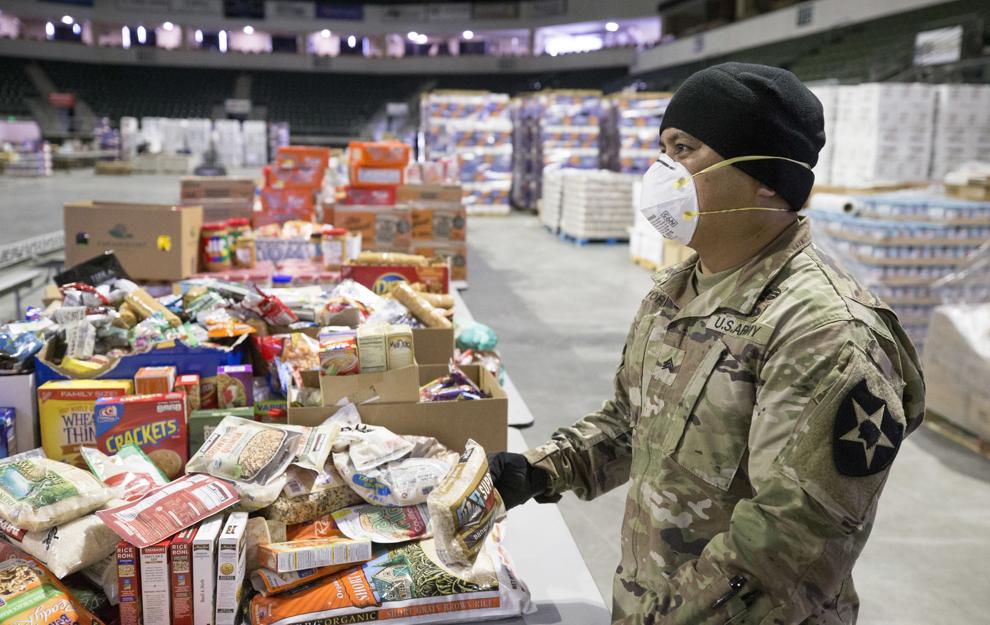 April | 'Stay at home' is followed by a recovery plan
National Guard arrives to help distribute food at the Town Toyota Center
'Stay Home, Stay Healthy' order extended to May 4
Confluence Health expands ICU capacity, reopens drive-thru testing site
Health district sends warning letter to "essential" businesses imploring them to enforce COVID-19 safety guidelines
State closes schools through June
Chelan County orders vacation rentals, Air B&Bs and campgrounds to close
Pangborn drops to one daily flight
COVID-19 isolation shelter opens
Grants up to $10,000 are available for small businesses
Douglas County allows some home construction to continue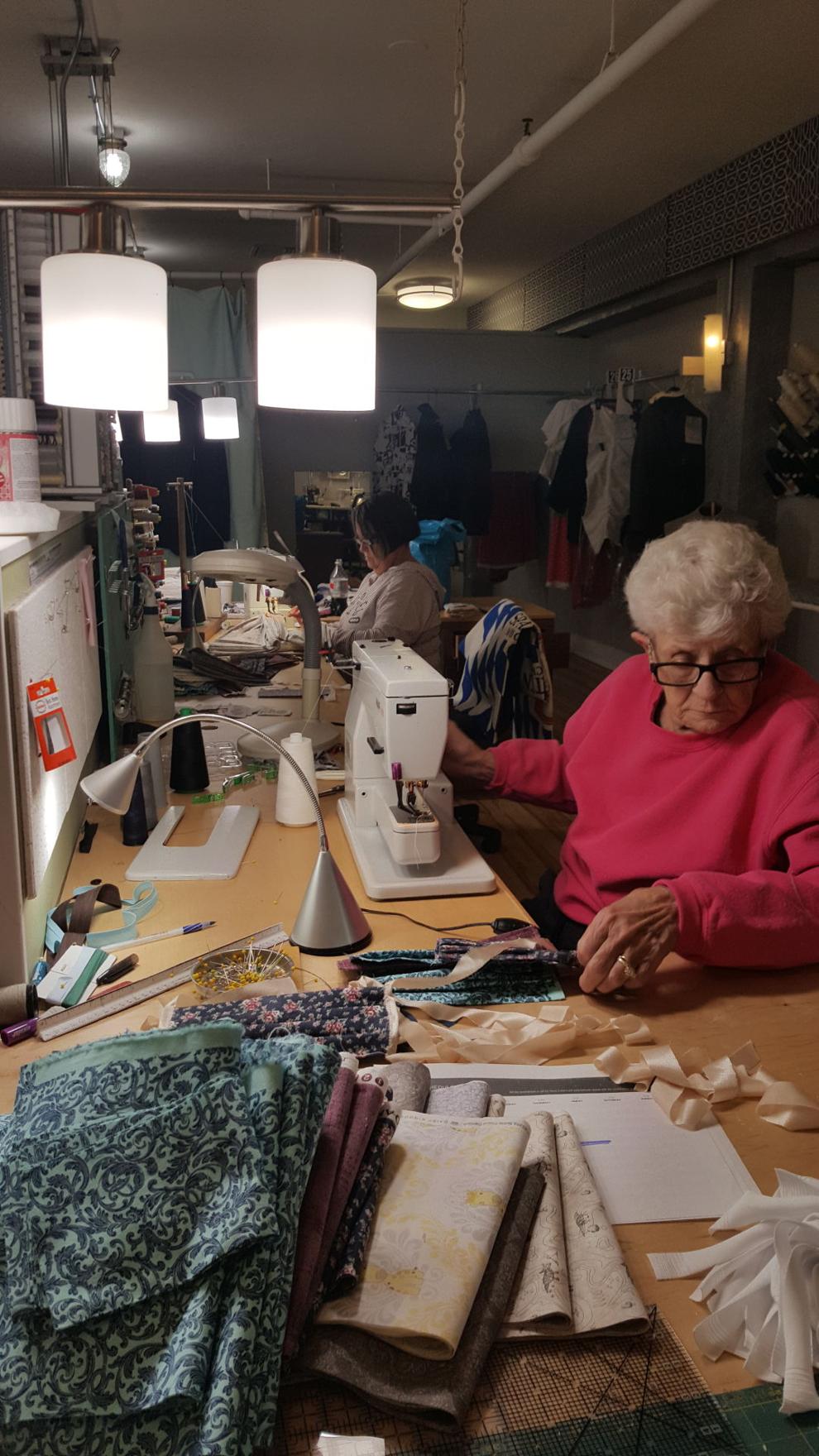 Community members donate more than 2,000 homemade masks and 100 homemade gowns to Confluence Health Foundation. Community also donates  7,000 manufactured masks, 15,000 pairs of gloves and 50 cases of hand sanitizer.
First Douglas County resident dies
Eleven new COVID-19 cases are reported in Waterville, all connected to a single private residence.
The Governor's office pushes back against counties and cities attempting to restart construction amidst the COVID-19 quarantine. Letters are sent to Chelan and Douglas county commissions telling them the proclamations allowing pre-existing home sales to continue construction are not in compliance with the state's "Stay Home, Stay Healthy" order and violate state law.
More than 800 businesses in Chelan and Douglas counties apply for emergency relief grants from the state — but less than 5% are likely to receive funding
36 Stemilt employees test positive for COVID-19
Counties redraft construction proclamations
Gov. Jay Inslee announces recovery plan, with certain activities to resume … soon ... including elective surgeries, some outdoor recreation and construction.
Some local restaurants reopen to give to-go services another shot
Inslee says construction projects previously underway can be completed if safety guidelines are followed.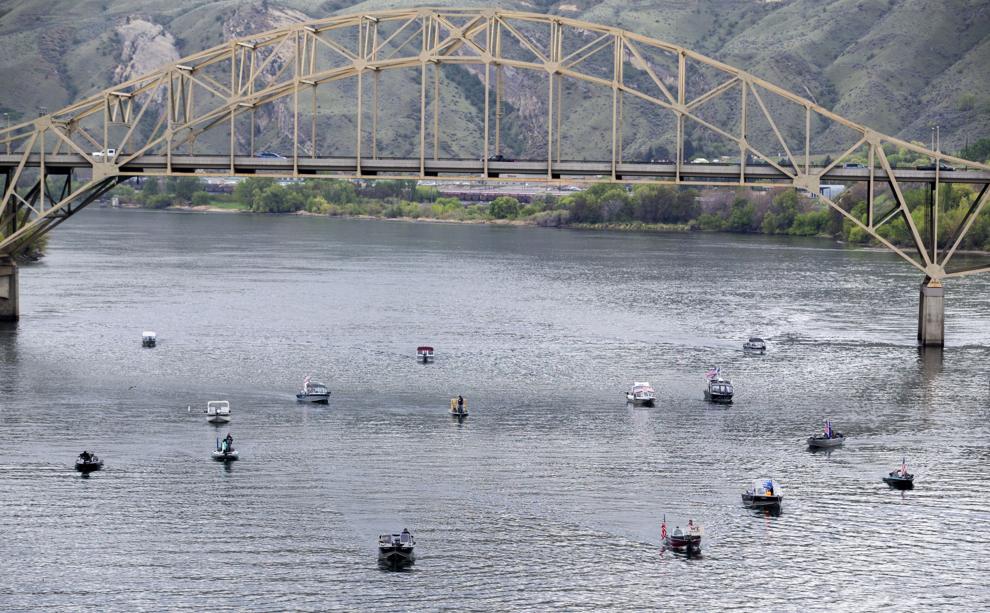 Protestors in boats, armed with fishing poles, gather on the Columbia River under the George Sellar Bridge to protest restrictions on fishing.
Gov. Jay Inslee announces outdoor activities, including fishing, hunting, state parks and public lands, will be allowed starting May 5. Camping will remain closed, though.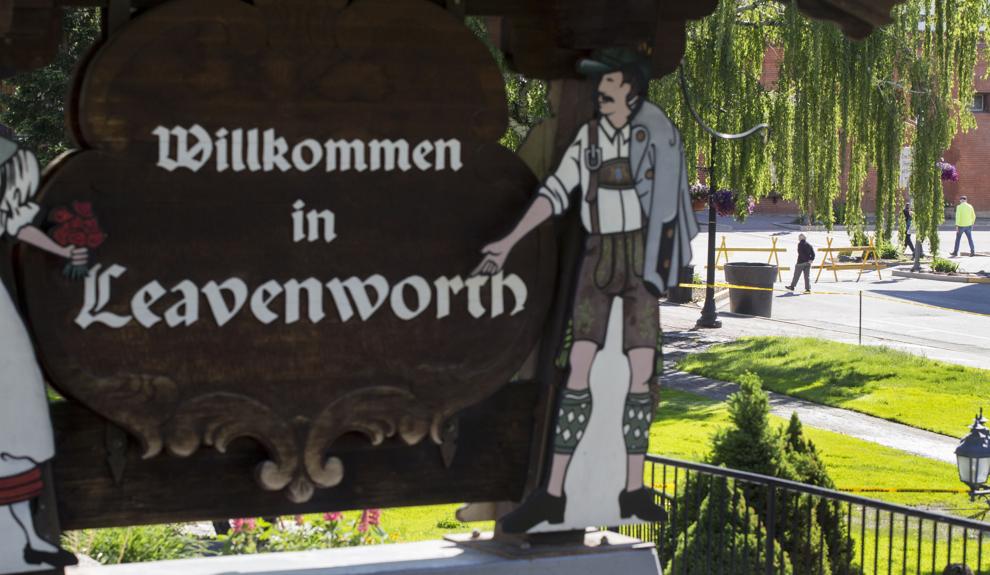 May | Restrictions lift, pandemic concerns continue
Confluence Health asks community to continue to craft and donate homemade masks for patients visiting its facilities
More than two-thirds of businesses surveyed say they will not be able to sustain operations for another six months without help.
Inslee extends stay home order to May 31, explains four phases of recovery
More ag workers test positive, preventive measures in place
Chelan, Douglas counties ask governor to loosen quarantine
Link Transit expects $7 million in federal aid. Chelan and Douglas counties and their cities anticipate $8.6 million in federal CARES Act funds.
Health district stops releasing COVID-19 ethnicity data, prompted by calls from Latino community members concerned the disparity in testing results could lead people to inaccurately believe they were responsible for the spread of the virus. Other Latino community leaders argue the information is important for an appropriate response.
Health district resumes reporting coronavirus test results broken down by patient ethnicity. The up-to-date case counts show 219 Hispanic, 48 non-Hispanic and two unknown cases. Hispanics represent 81.4% of positive COVID-19 cases, despite accounting for around 30% of the area's total population.
Port launches small business grant program
Health district drafts proposal to partially reopen counties
No go on the counties' early reopening request, says state Secretary of Health John Wiesman
Leavenworth's downtown core closes to traffic, parking after busy Mother's Day weekend.
Non-urgent medical and dental care is allowed, with new safety protocols.
The Chelan-Douglas Board of Health rescinds an order allowing the health officer to fine businesses not complying with the COVID-19 shutdown.
The Windmill owner sets May 27 reopening date, five days before the "Stay Home, Stay Healthy" order expires.
A group of 39 community leaders, business people and private citizens, led by Wenatchee City Councilman Jose Cuevas and Douglas County Commissioner Dan Sutton, sue Gov. Jay Inslee to force an end the COVID-19 state of emergency.
Unemployment rate hits 15.1%
The state Employment Security Department discovers a Nigerian fraud ring made off with "hundreds of millions of dollars" in unemployment benefits
Inslee announces emergency rules that give the Department of Labor & Industries the authority to cite businesses for defying COVID-19 closures. Businesses could be fined $10,000 or more.
In-person religious services can resume with outdoor services up to 100 people
Wenatchee's Windmill Restaurant decides not to defy the state's shutdown orders after a call from the state Liquor and Cannabis Board about the impact on its license.
Food banks supply boxes to about 1,700 families a week
Tests ordered for all residents and staff at long-term care facilities.
Ag worker protection guidelines issued — physical distancing, handwashing stations, PPE, workplace disinfection, worker education, access to testing and a virus response plan.
The governor announces that counties in Phase 1 of the Safe Start plan — including Chelan and Douglas — can apply, starting June 1, to move to a modified version of that phase, allowing more businesses and activities to reopen. Making the move requires less than 25 new cases per 100,000 residents over 14 days. Previously the requirement was less than 10 new cases.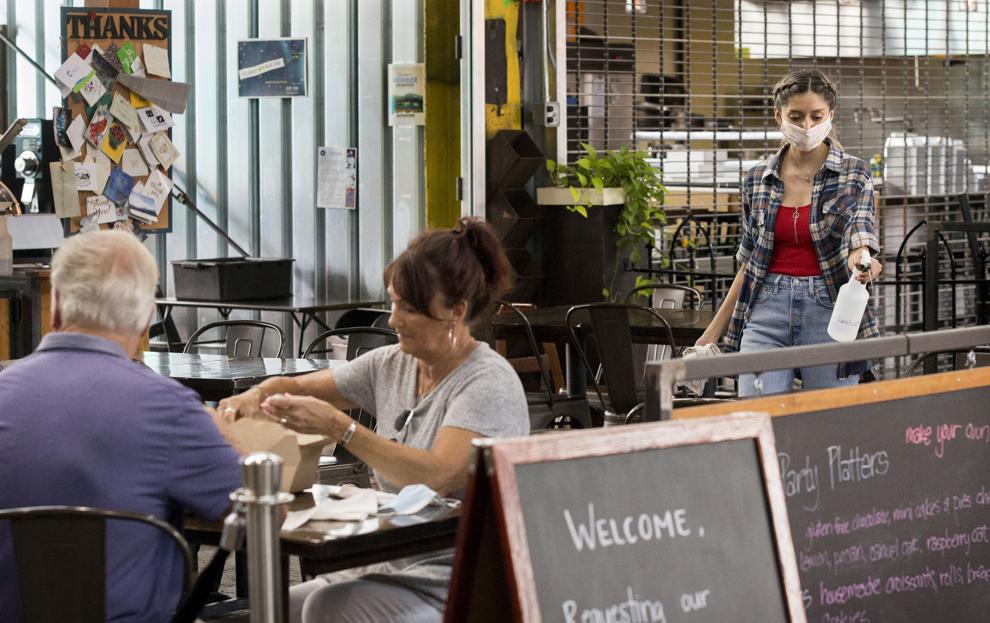 June | Frustration, new guidelines, Phase 1.5
Health district forms committee to draft new proposal for restart application
Plaintiffs in Chelan and Douglas counties combine Inslee lawsuits
L&I makes first contact with businesses on COVID-19 enforcement — no fines yet, just education
Okanogan County approved for Phase 2. Chelan and Douglas are among five counties remaining in Phase 1
71 small businesses receive emergency COVID-19 grants processed through the Chelan Douglas Regional Port Authority
Masks required for workers. Businesses must post signs encouraging customers to wear face coverings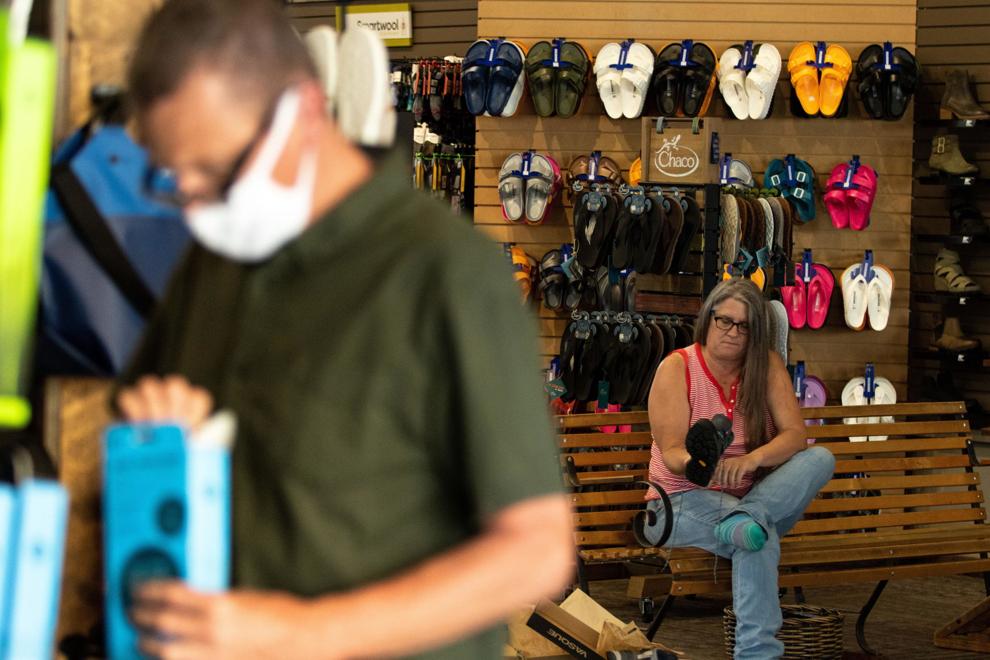 State OKs Phase 1.5 for Chelan and Douglas counties, allowing some businesses and activities to resume with restrictions, including restaurants, retail, personal services and pet grooming
Slidewaters denied restraining order that would prevent fines if it opens in defiance of state orders
State budget cuts, furloughs coming to deal with projected $4.5 billion gap in the 2019-2021 budget
Confusion over paperwork prompts Slidewaters to move ahead with plans to open over the weekend
Masks ordered for everyone in Yakima County
Masks ordered statewide starting June 26
Chelan County Superior Court Judge Kristin Ferrera denies a temporary restraining order that would have lifted Inslee's COVID-19 state of emergency.
Colleges say plan for fall is in-person if possible; masks likely
State and local law enforcement agencies clarify they will not write tickets to enforce the mask mandate, but encourage compliance
Chelan-Douglas Health District Administrator Barry Kling, 66, announces he will retire
The new mask requirement begins
The Chelan-Douglas Board of Health appoints Bruce Buckles as interim health distirct administrator
Rising case counts prompt pause on "Safe Start" reopening plan
Leavenworth's Oktoberfest, scheduled over three October weekends, is canceled. The event typically has an attendance of 10,000 people per weekend.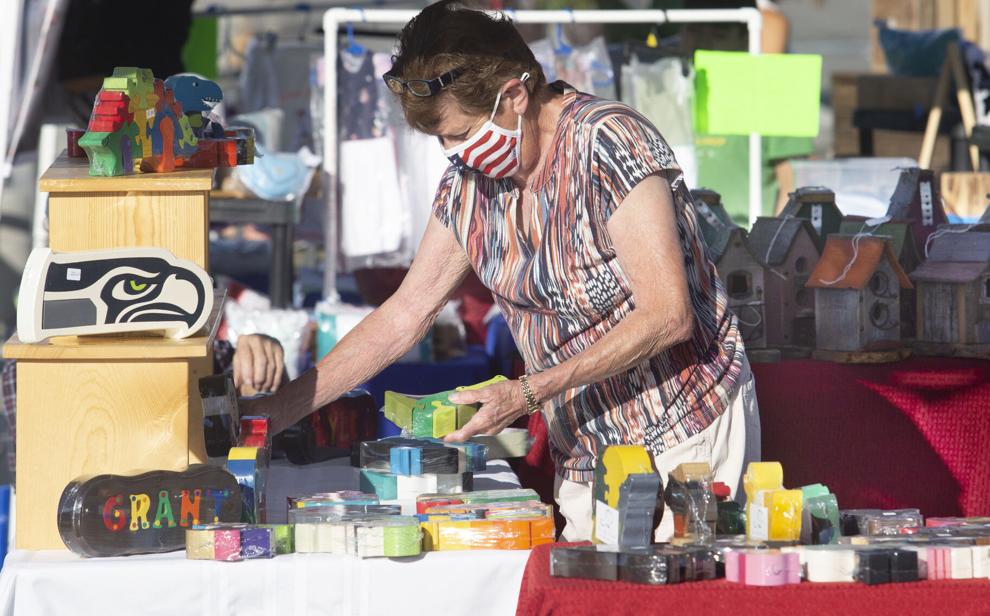 July | Face coverings key as economy restarts
The Safe Start proclamation, set to end on July 1, is extended through July 9, in anticipation of additional modifications.
Inslee announces that businesses will be required to refuse service to customers not wearing a face covering starting July 7.
Chelan and Douglas counties brace for COVID-19 second wave, with counts at 126 cases per 100,000 people over a 14-day period, up from 25 cases per 100,000 people over a 14-day period before moving to Phase 1.5.
"Safe Start" proclamation, including the masking requirements, extended to Aug. 6
Local COVID-19 hospitalizations reach new high. Central Washington Hospital reports 19 coronavirus patientsmore than previous peak of 14 on Aprl 14. Seven of the 19 patients in the ICU and four were on ventilators.
Grant County reports seventh death
Grant County reports its eighth death
National Guard's mission extended through Dec. 31. More than 1,000 members have been deployed to help with food distribution, COVID mapping and testing
Michael McKee, owner of Mike's Meats, launches an initiative to limit the emergency powers of the governor. He needs 350,000 signatures by Dec. 31.
Pause in move to new phases extended to July 28.
Slidewaters' lawsuit challenging the legality of emergency response is thrown out in the federal Eastern District Court of Washington.
Okanogan County reports third death
All live entertainment, indoor or outdoor, is prohibited statewide, including drive-in concerts, comedy clubs and music in restaurants. The orders go into effect July 20.
Slidewaters says it will close for the season July 20, ending a 30-day run in defiance of restrictions accompanying the state's COVID-19 pandemic. It also received a $9,639 fine from the state Department of Labor & Industries.
The Washington State Apple Blossom Festival cancels preliminary plans to host a harvest festival in September.
Douglas County announces fourth death
Citing continued increased case counts, the state rolls back activities that data shows provide a higher risk, including indoor dining at restaurants, bars, fitness centers, weddings and funerals. The changes also affect family entertainment centers, movie theaters and card rooms.
Wenatchee and Eastmont schools announce plans to start the year with remote learning and move to face-to-face instruction as COVID-19 conditions allow. The districts also are offering an all-year virtual academy for those who are more comfortable with that option.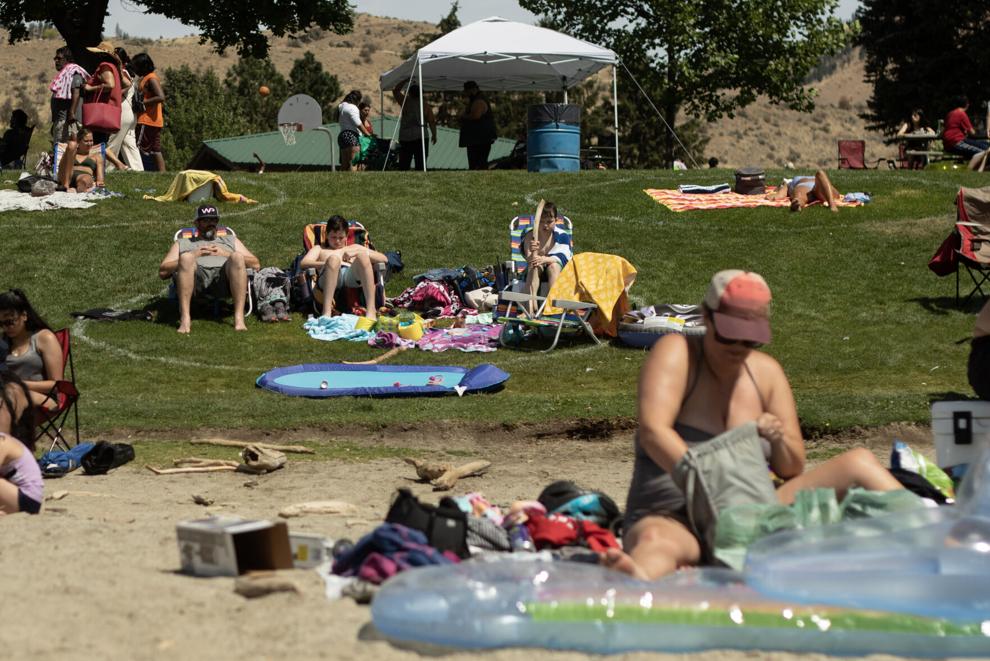 Chelan County reports two more deaths, bringing two-county total to 13
Chelan limits access to Don Morse and Lakeside parks to avoid overcrowding, hires private security firm to enforce rules.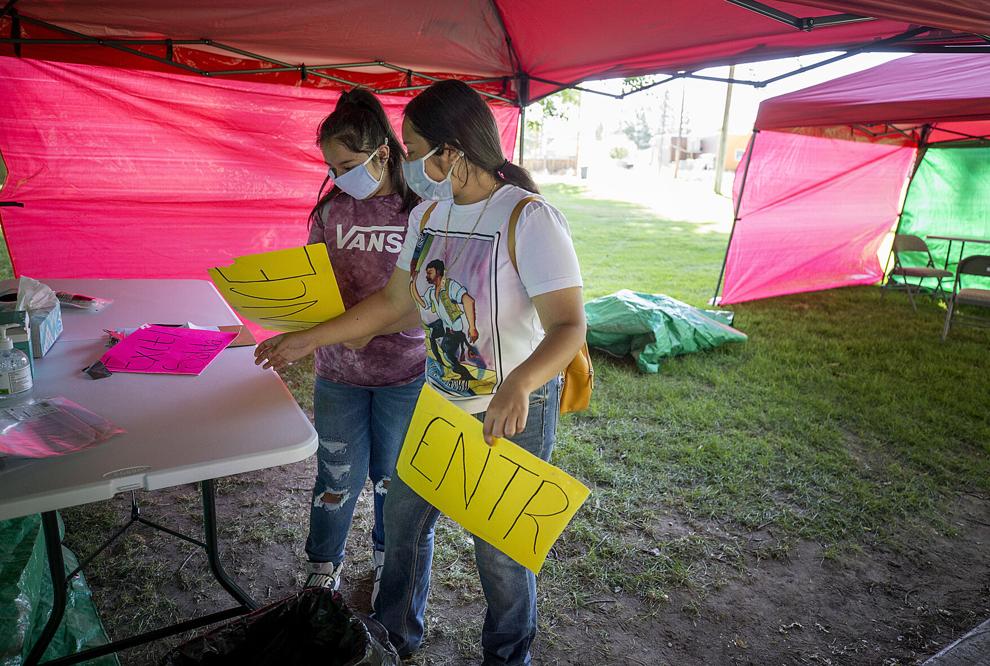 August | Testing continues, schools in flux
Confluence Health averages 400 people a day at the drive-thru testing site, and has tested 22,537 so far. The call center, which triages people before they're referred to the drive-thru, is fielding around 500-600 calls per day.
Health officers advise school districts that students should not yet return to school. They support partial face-to-face school instruction when COVID-19 case counts go below 75 cases per 100,000 population for 14 days and would support students' return to classrooms once the count drops to 25 cases. Chelan and Douglas counties' counts for the two-week period ending July 31 were in the 700 range.
Almost 200 people attend a demonstration in Wenatchee's Memorial Park to voice concerns about farmworker rights in response to COVID-19.
Chelan, Douglas counties add three deaths, for 16 total, with 10 from Chelan and six from Douglas
State helps Chelan-Douglas Health District with testing
Free testing events planned in Bridgeport, Chelan, Manson and Rock Island. Later test sites include Peshastin, Dryden, Leavenworth, Plain and Cashmere
New regulations for ag workers coming after outbreak at Gebbers Farms where three workers died.
Inslee issues guidance for museums, bowling alleys, agritourism and outdoor recreation
Of the 32 people who volunteered for testing in Bridgeport, 12 test positive. All those who tested positive were Hispanic and had no symptoms. The health district announces a plan to test all 2,500 residents starting Aug. 25.
New program helps renters facing eviction
Leavenworth cancels Christmas Lighting Festival, but lights will shine
Chelan PUD uses automatic temperature stations for employees
Confluence Health seeks participants for coronavirus vaccine trial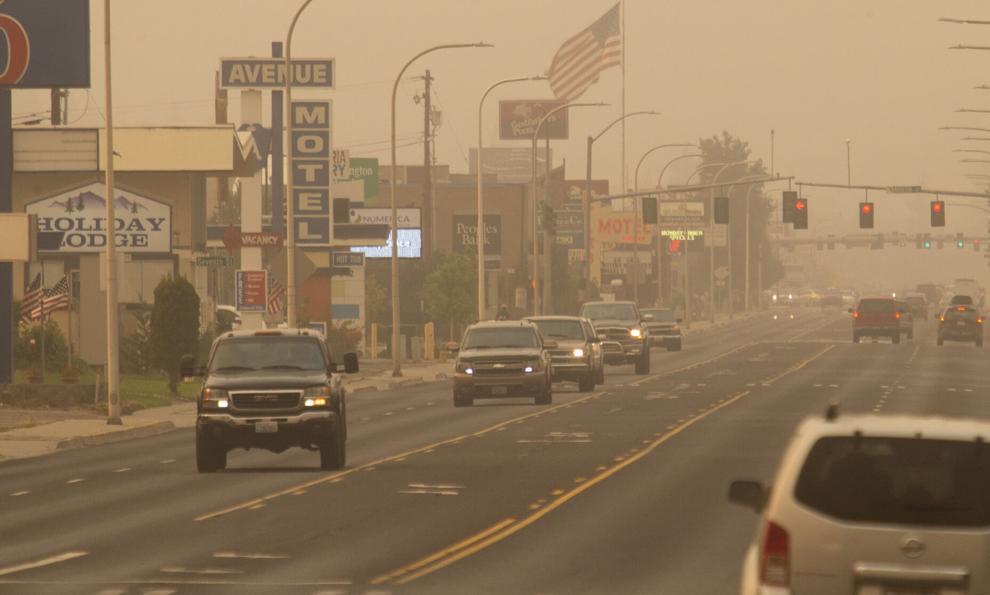 September | Pandemic compounded by wildfires
Two more deaths bring two-county count to 18
Chelan-Douglas Health District advises residents to stay home due to wildfire smoke and unhealthy air quality conditions. Guidance also is provided for agricultural workers and the use of masks for smoke vs. masks for COVID-19. The smoke is coming from the Cold Springs Fire in Okanogan County and the Pearl Hill Fire in Douglas County. Later in the week, smoke arrives from fires burning in Oregon and California.
Nathan Weed is named as the health district's new interim director
Chelan, Douglas counties death count climbs to 19
Gyms make moves to reopen after getting updated safety guidelines allowing indoor fitness and training facilities in modified Phase 1 counties to operate using Phase 2 guidelines. Blair McHaney, president of WORX gym, helped lead the Washington Fitness Alliance in its push to reopen gyms.
15th death reported in Chelan County. Douglas County has seven.
Gov. Jay Inslee updates guidance for agritourism operations, allowing wagon rides, animal viewing, pumpkin farms and corn mazes
COVID-19 positives in Chelan, Douglas start to fall, but masking compliance in both counties drops to about 70%, raising concern.
Data shows leisure, hospitality hardest hit by job loss rates
Chelan County reports 16th death in the county. Health district statistics show 162.5 positive cases per 100,000 people over a two-week period, the first time in about two months the rate of positive cases is below 200 per 100,000 people over two weeks.
Eastmont welcomes select students back to the classroom
Chelan County now reports 17 deaths. Douglas County has seven.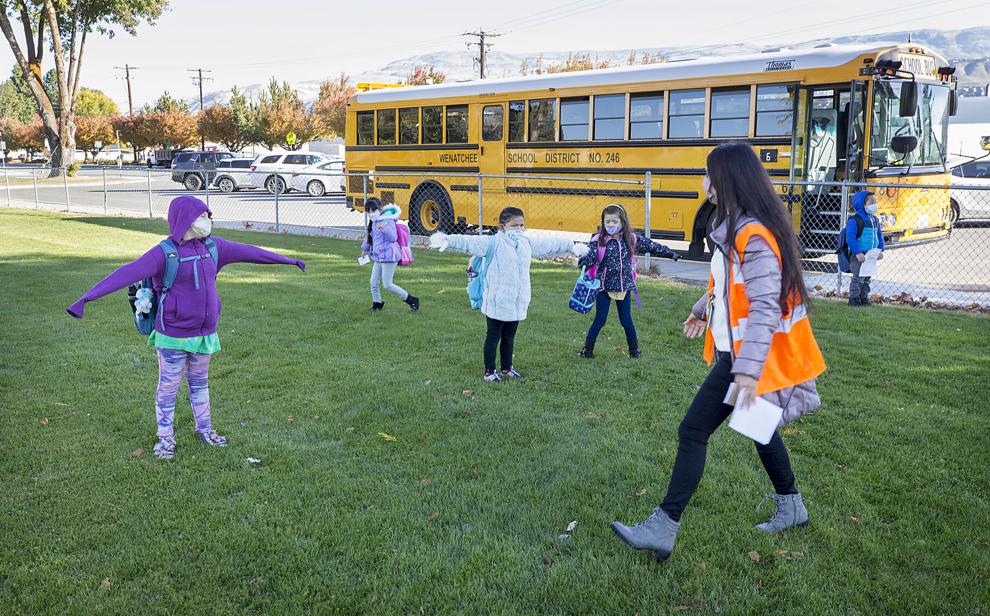 October | Fall ushers in a new phase
Free testing continues across Wenatchee Valley
The COVID-19 response in Chelan and Douglas counties has been hampered by a lack of trust and communication with the area's most vulnerable communities, federal officials say.
A declining case rate — 116 positive cases per 100,000 people over a two-week period — means schools can plan for move to hybrid instruction. The Wenatchee School District's preschool through second-grade classes would be the first to return to schools, with other grades being phased in gradually.
Wenatchee High School hosts testing location
Chelan County reports 18th death
WVC will stay online through winter quarter
Inslee moves counties in a modified Phase 1 — Chelan, Douglas, Benton, Franklin and Yakima counties — to a full Phase 2, easting restrictions for libraries, movie theaters, pet grooming and league-play bowling
Dr. Malcolm Butler begins hosting a weekly video series called "Community Update" to talk about COVID-19.
Gebbers Farms employees test results show 0.7% positive, or about 22 of Gebbers Farms' 3,100 employees.
Community testing in Chelan and Douglas counties shows 1.7% positive case rate.
Cases back on the rise in the two-county area, with 170 cases per 100,000  population over two weeks , compared to a low of 110 in late September.
Grant County reports 25th death
Contact tracing duties, previously done by the state, are now being conducted by staff at the Chelan-Douglas Health District, Confluence Health, Columbia Valley Community Health and Cascade Medical.
Community organizations help immigrants sign up for the $40 million COVID-19 relief fund.
State sees highest increase in almost four months. The counties are now at 178 positive cases per a 100,000 population over a two-week period. The counties were at 168 cases on Oct. 21 and at a low of close to 110 on Sept. 30.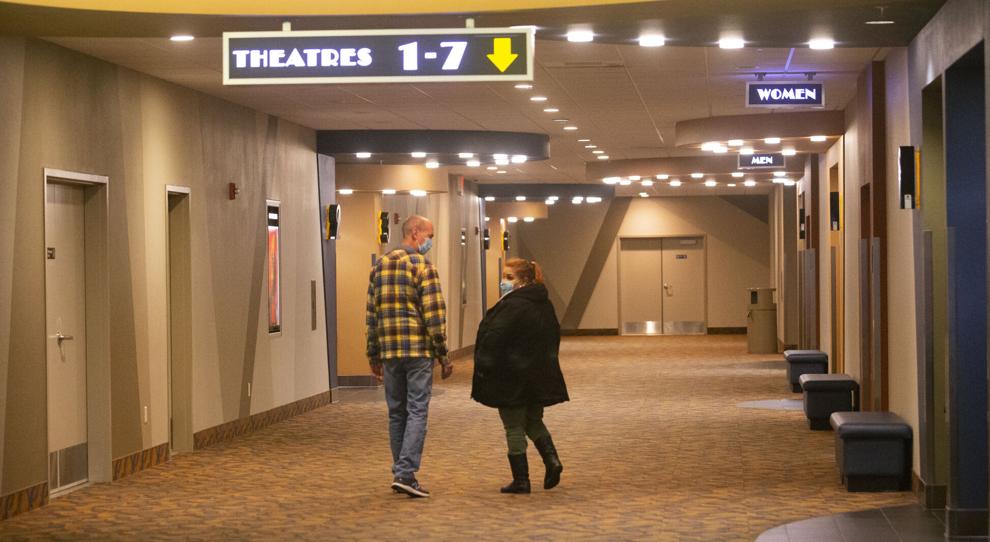 November | Two steps back
Students in Eastmont, Wenatchee begin to return to classrooms part-time
Chelan County adds three deaths, bringing count to 21. Douglas County has had seven deaths
Chelan County reports a 22nd death
Chelan and Douglas counties see a jump in cases
Grant County reports two more deaths, bringing the county total to 27.
Wenatchee theaters reopen after 8-month closure
Iglesia Emanuel Bautista church members asked to quarantine after two members test positive
State health officials ask residents to reduce social activity
Local COVID-19 positives hit 371.4 per 100,000 people over two weeks
Inslee issues travel advisory, recommends 14-day quarantine, urges Washingtonians to cancel holiday gatherings
Mental health experts express concern about increased incidents of depression and anxiety linked to pandemic
Statewide rollbacks arrive, ordered through Dec. 14. The new rules close indoor restaurant and bar service, but allow outside service for limited groups. It closes gyms, museums, bowling alleys and movie theaters. It reduces indoor capacity at retail and grocery stores to 25%, along with reduced capacity for religious services and weddings. Indoor gatherings with people outside individual households prohibited unless participants quarantine for a week and test negative.
Closing businesses is no solution, industry leaders say
School districts delay returning more students to classrooms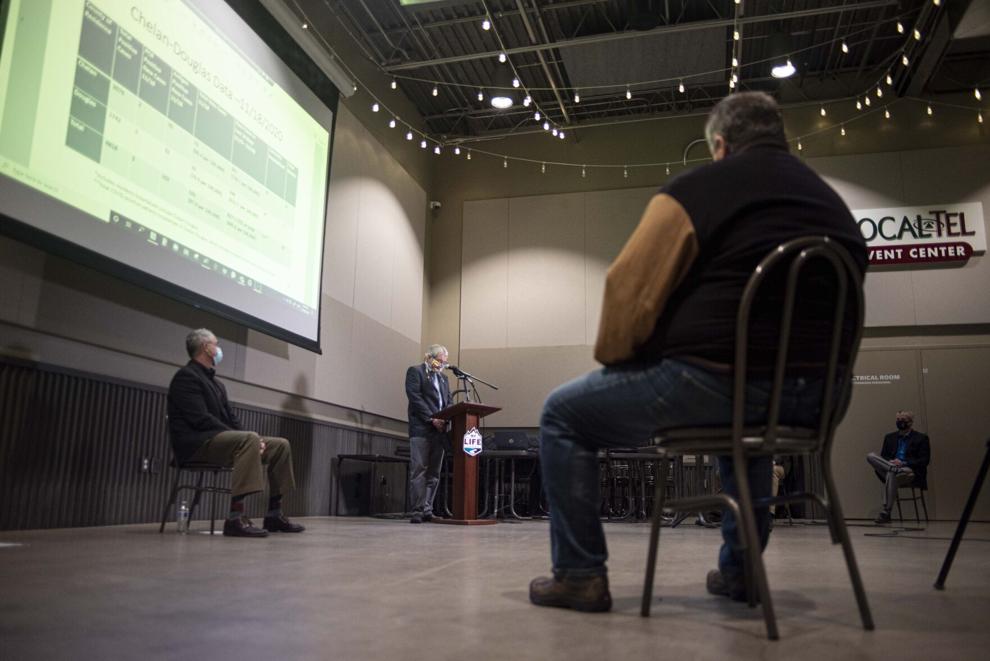 Health district hosts online town hall to provide information directly to the public about the increase in COVID-19 cases and threat posed to the community
Six more COVID-19 deaths reported in Chelan County, bringing total to 28
County commissioners criticize new rules, others push for individuals to step up
Inslee announces $135 million will be available to help businesses and residents
Grant County reports nine more deaths
Wenatchee Wild cancels 2020-21 season
Chelan, Douglas counties have a combined rate of 836.4 cases per 100,000 people over a two-week period
Four more COVID deaths reported in Grant County, bringing total to 36.
Hospitalizations spike, with 29 patients, the highest total in four months.
Okanogan County adds 11 deaths, bringing the county's total to 26.
Chelan County records 29th COVID death.
The state launches WA Notify, an app that will alert residents if they have spent time near another app user who later tests positive for COVID-19.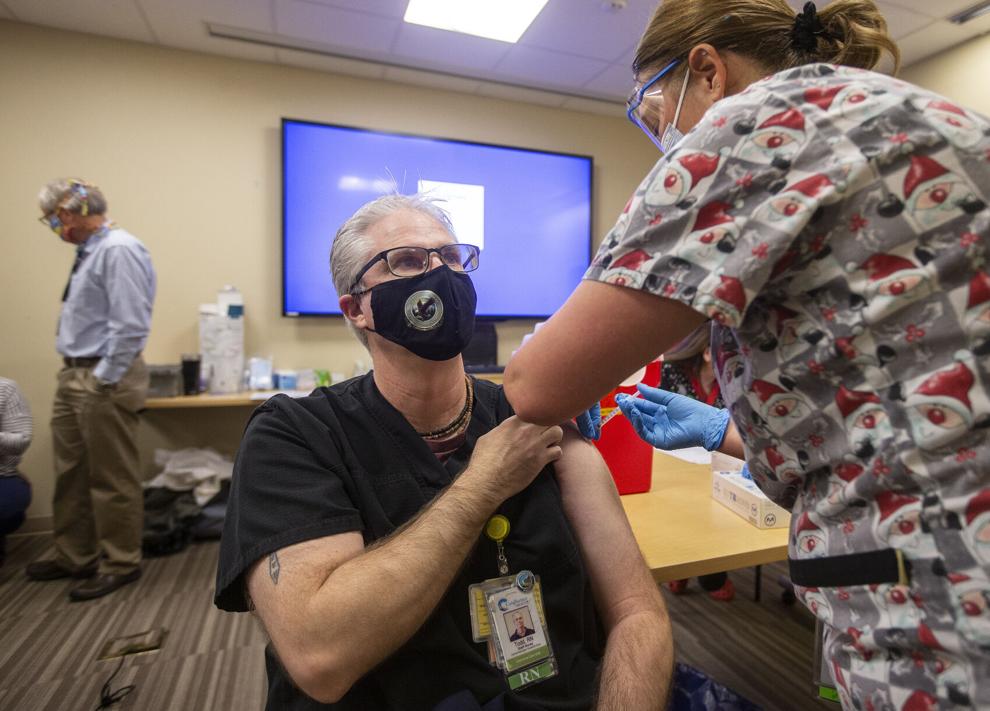 December | Vaccines arrive
WVC keeps most classes online for spring quarter
CDC updates quarantine guidelines, shortening isolation time if combined with tests
Grant County reports 18 more COVID-19 deaths, bringing the total to 54.
More non-emergency procedures canceled at Central Washington Hospital
Superior Court trials in Chelan and Douglas counties are delayed until at least January.
Confluence Health CEO Dr. Peter Rutherford and Chelan-Douglas Health Officer Dr. Malcolm Butler issue a strongly worded plea for people to follow COVID-19 safety measures.
Hospitalizations at Central Washington Hospital increase over the weekend to 36.
Luke Davies named new health district administrator
Governor extends restrictions to Jan. 4, announces another $50 million in financial help for small businesses
Leavenworth's lights are up and people are coming, prompting complaints from residents to the Chelan-Douglas Health District
The U.S. Food and Drug Administration approves Pfizer-BioNTech COVID-19 Vaccine for distribution under an emergency use authorization process.
Third-graders return to Wenatchee classrooms. Fourth- and fifth-graders, will start attending school part-time after the holiday break. On Jan. 26, middle school and high school students will return.
Chelan County now has 31 COVID-19 deaths on record. Douglas County has seven.
COVID-19 infection rate in Chelan and Douglas counties is at 1,017.2 per 100,000 people over a two-week period
First vaccine shipment arrives in Wenatchee, nearly 1,000 doses of the Pfizer mRNA vaccine. Nurses working in the hospital's ICU and emergency department, and support staff, will be among the first to receive it, with inoculations set to start Thursday.
FDA approves Moderna COVID-19 vaccine
The state Department of Labor & Industries fines Gebbers Farms more than $2 million after an investigation into finds "dozens of safety and health violations"
1 million Americans receive a COVID vaccine, CDC says
Ten more Grant County COVID-19 deaths announced, bringing the county's total to 83.
Wenatchee police officers get their first shot of the COVID-19 vaccine at Confluence Health
The COVID-19 rate in Chelan and Douglas counties is at 666.5 per 100,000 from Dec. 16 to Dec. 30
Inslee extends indoor dining ban, other restrictions until Jan. 11
January | New plan, renewed hope
Inslee announces new region-by-region reopening plan that starts Jan. 11 which groups counties into eight regions across the state. Each region will advance to the next phase, or not, depending on four metrics:
A 10% decreasing trend in case rates
A 10% decrease in COVID hospital admission rates
An ICU occupancy rate less than 90%
A test positivity rate of less than 10%
Chelan, Douglas Grant and Okanogan counties comprise the North Central Region. Decisions on whether each region will advance will be made each Friday.
The second phase allows restaurants to open indoor dining and indoor fitness centers to open at 25% capacity. Sports competitions can resume with limited spectators, and wedding and funeral ceremonies can have more attendees. Regions also could move backward if two or more of the metrics worsen.
New rules also allow gyms and fitness centers to reopen in current phase with restrictions, and restaurants to offer indoor "open air" dining.
Eight more COVID-19 deaths reported in Grant County, for a total of 91.
Chelan, Douglas counties remain in Phase 1 of the new two-phase reopening plan after failing hospital admissions and case counts metrics.
Six more COVID-19 deaths reported, bringing the total to 35 in Chelan County and nine in Douglas County
Law enforcement, firefighters get vaccinations
North Central Region remains in Phase 1
Chelan County's COVID-19 death toll climbs by three, bringing the total to 38
Town Toyota Center is designated as a state COVID-19 vaccination site
Gov. Jay Inslee announces vaccines will be available to everyone 65 years or older and those 50 years or older in multi-generational housing. The Department of Health introduces new Phase Finder tool, findyourphasewa.org.
Pybus opens concourse for 'open air' dining. Other restaurants get creative to provide outdoor experience.
Chelan County reports 39th death
Douglas County reports 10th COVID-19 death
North Central Region stays in Phase 1
The mass COVID-19 vaccination site opens at Town Toyota Center, with a goal of 400 people per day to start
Chelan County adds two deaths, for a total of 36, and Grant County adds seven, for a total of 98. Douglas County has 15 deaths.
Seven more deaths added to Grant County, bringing the total to 105.
State tweaks reopening plan so decisions will be made every two weeks, but only three of four metrics need to be met to move to Phase 2.
North Central Region remains in Phase 1, faiing three of four metrics.
Residents continue scramble for vaccination appointments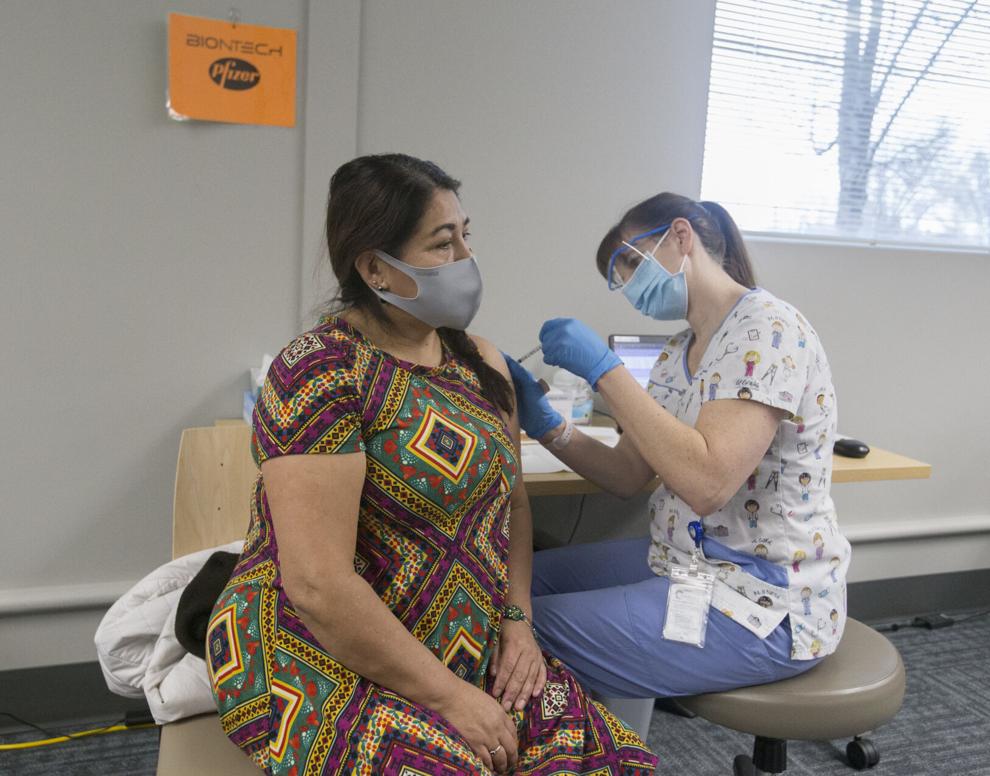 February | Milestones and metrics
Wenatchee vaccination clinic targets Latinos and others who need help getting appointment
Unemployment claims drop slightly in Chelan, Douglas counties
Town Toyota Center site reaches 6,000 total vaccinations
North Central Region and the rest of the state learn they will move to Phase 2, starting on Valentine's Day. Phase 2 opens indoor dining, along with other indoor entertainment activities like bowling and going to a movie theater, at 25% capacity. It also allows indoor social gatherings with a maximum of five people from two different households.
An additional $87 million in state funds is on the way to help people pay rent and help businesses.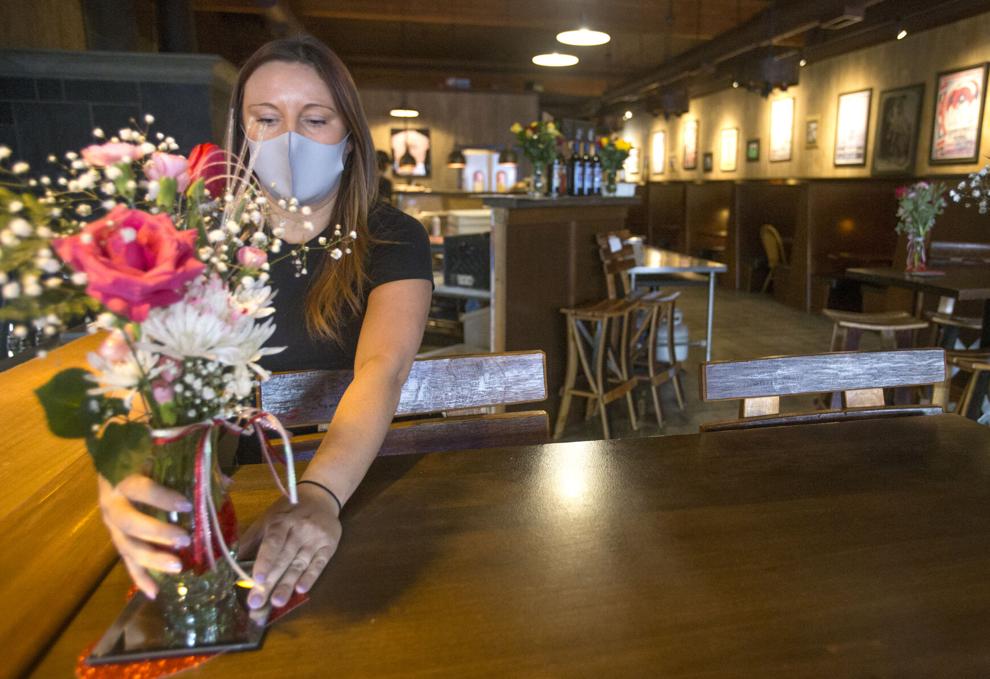 Seven more die from COVID-19 in Chelan and Douglas counties, bringing the total deaths to 42 in Chelan County and 16 in Douglas County. Grant County has recorded 109 deaths, while Okanogan County has had 34.
Businesses approach second economic reopening with caution
A 90-year-old East Wenatchee woman is the state's 1 millionth person to get vaccinated. She received her shot at the Town Toyota Center mass vaccination site.
What's safer than wearing a mask? Double masking, health experts say
Douglas County reports a 17th death from COVID-19