WENATCHEE — When Elvis and Teddy Garcia set out to open a yoga studio and coffee shop in the Wenatchee area, they had a clear vision. They wanted an open, airy space with a lot of natural light. They wanted food, drinks and products that promoted health and wellness. And they wanted a welcoming space for not just yoga students, but the community.
Drawing from their experience operating a yoga studio in Seattle's Green Lake neighborhood, which they continue to operate, the couple opened The Yogi Grind (previously called Seattle Yoga Lounge) in Wenatchee in 2019. Elvis is originally from Wenatchee and grew up in the area.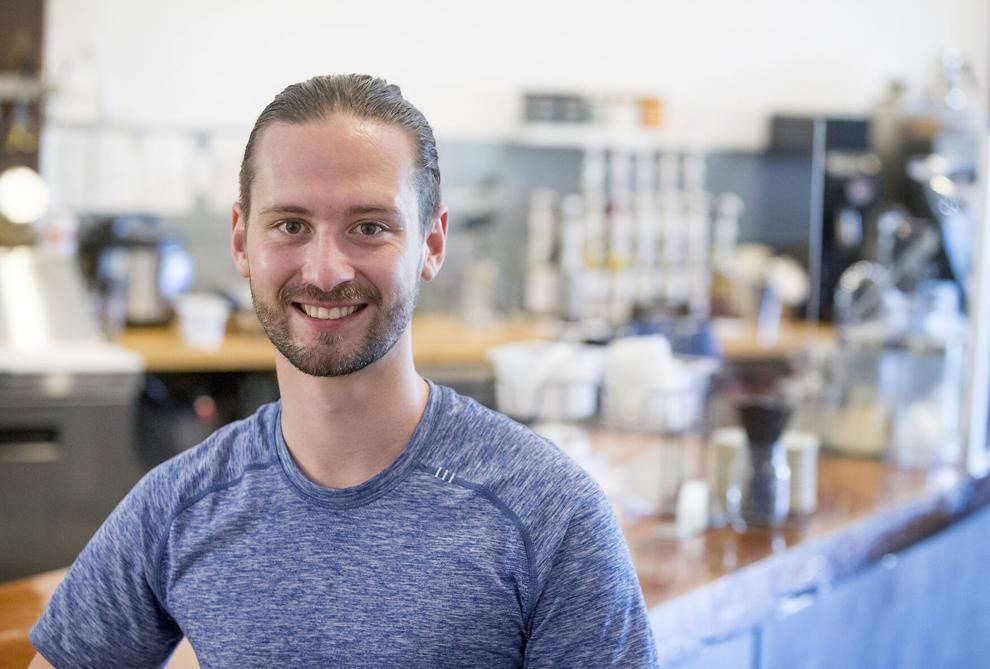 "The Yogi Grind was always supposed to be a community gathering place, kind of like a watering hole," Elvis said. "That was always my vision."
The upstairs yoga studio and ground floor coffee shop and storefront share a total of 2,700 square feet at 112 N. Wenatchee Ave. The coffee shop opened first in June 2019.
"We did just coffee and smoothies for four months and during those four months, Teddy and I were rebuilding the space in the back. As any new business owner would tell you, for the first couple of months, it's pretty slow."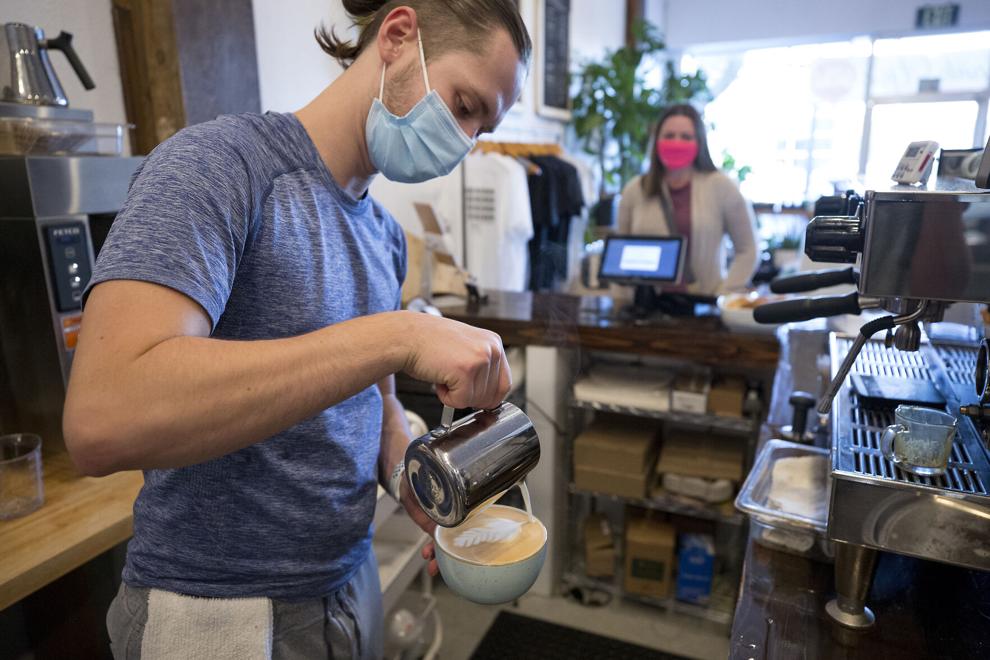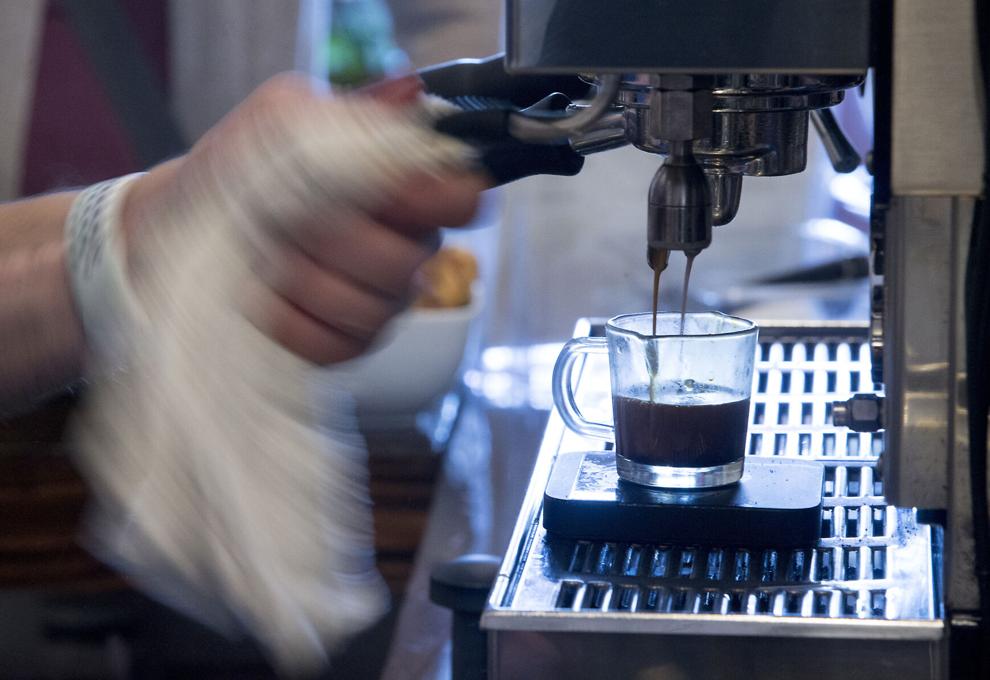 While the studio was being built, they offered free yoga classes on the weekends in the coffee shop. The shop was designed to be an open workspace with low walls and a lot of natural light. It also had a rainbow pride flag hanging in the window — one of the few visible in downtown at the time.
"We pretty quickly got labeled as a pretty liberal establishment," Elvis said. "On day one, I put up our pride flag. I sat right here and it was very scary… I actually took it down that night because I was afraid that when someone wasn't here that somebody would break our window, because I grew up in this place, and even though it's changed a lot in 20 years, I was still living with the trauma of being a scared 15-year-old boy."
On day two, the pride flag was folded in the corner. It hadn't been hung up yet. When a customer from the day before came in, he asked when it would be hung back up. Elvis said, "Right now."
"This is our livelihood. I thought, 'Am I going to stand up for what I believe in? Or is the coin worth more to me?'" he said. "If a pride flag is going to scare you, that is who we are — it's not everything we are, but it's a big part of who we are."
The pride flag stayed up after that. Elvis said he felt more and more welcomed by their customers and the downtown area. The Wenatchee Downtown Association and the Wenatchee Valley Chamber of Commerce were supportive, and Wenatchee Mayor Frank Kuntz welcomed the cafe at its grand opening.
The Garcias felt that The Yogi Grind could meet a need they saw in the community.
"There wasn't a place that felt accepting of everybody. There wasn't a place that felt like, 'We love you for who you are. No matter who you are, you are welcome here,'" he said. "What we were doing in Seattle was more needed in Wenatchee: Teaching love and acceptance with every cup of coffee."
They said their clientele is diverse — and they like it that way.
"We are more than just a gay cafe," Elvis said. "We are The Yogi Grind and we've always had coffee, yoga and you in mind, and the 'you' part of it is the most important part. Everything we serve you is going to start off with 'Is this good for you?' "
The Garcias had already been offering yoga at their Seattle Green Lake location since 2015. Now, they offer multiple yoga classes seven days a week in their Wenatchee studio. Elvis and Teddy are both instructors, and they have two other instructors who lead classes.
They also began selling food and products focused on health and wellness. The menu is vegetarian- and vegan-friendly and offers all-natural and organic options for most drinks.
"When we first started, our most popular drinks were our wellness drinks," Elvis said. "Nobody else in the city had a drink with ashwagandha mushrooms or a black detox drink."
The shop also has candles, yoga mats, incense and other small craft items. In 2021, still in the grip of the pandemic, the retail side expanded to include houseplants.
"People would come in here all the time and say 'I really love your plants, can I buy this one?' " Elvis said. "And I said 'No, these are my babies, they're not for sale.'"
But the message was clear: customers were ready to buy plants. Garcia got a plant nursery endorsement for the business and found a Washington-based nursery to purchase from. Now, the entrance to the shop looks like a well-manicured jungle.
"You don't run into many coffee shop, yoga studio, plant nurseries," Elvis said. "But it seemed like a very logical next step in the progression."
Now, after weathering 18 months of quarantines, changing rules and uncertainty during a global pandemic — including the extra challenge of keeping up with rules and regulations in two different communities — they hope to be able to get back to creating new and interesting menu items and expanding their offerings across the board.
The five-year plan, Teddy said, is to reconnect and engage more with the community.
"COVID has caused a lot of struggles for all small businesses and we are trying to continue to support a healthy community not only from the coffee shop but how to support their bodies and movement with Yoga," he said.
They invite anyone and everyone to stop by.
"There's no prerequisite: You come as you are and we love you for who you are," Elvis said. "We have good coffee, we have good yoga — come on in."