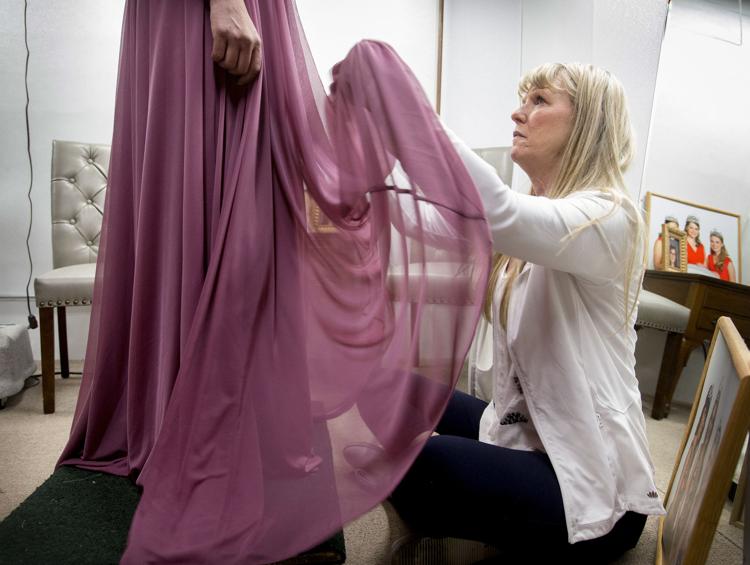 WENATCHEE — It seems like women are always falling in love with a formal gown that doesn't quite fit.
Sometimes, it's an obviously bad purchase — like a size 14 woman buying a size 8 gown. Or a size 8 woman buying a size 14 gown.
But usually, it's just that many body types don't fit off-the-rack clothing.
Diane Ritter takes all those problems and alters gowns to match specific body types.
"I love the fact that I get somebody in here who says 'This looks horrible on me' and I walk up with safety pins and have them come back in a week and put it on and their faces glow," she says. "They are so happy that what they envisioned was going to work — 'Oh, yeah, this looks good on me.' "
Ritter is owner of Sew Rite Alterations, a Wenatchee business based in the basement of her parents' Kittitas Street home.
Ritter says it was her mother's idea to move the business there.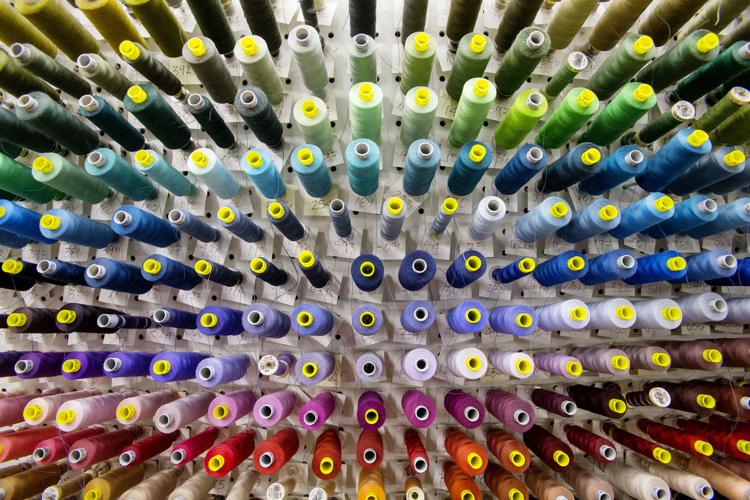 "There was space and the opportunity to see her daughter five days a week," Ritter says.
There is another plus. Ritter's father is in a wheelchair after a stroke and Ritter is able to help her mother when the need arises.
Ritter, 54, began sewing during a 4-H program when she was in the fourth grade.
"It is definitely my God-given gift,"she says. "I've never had any formal training — just sewing my own clothes; my own prom dresses."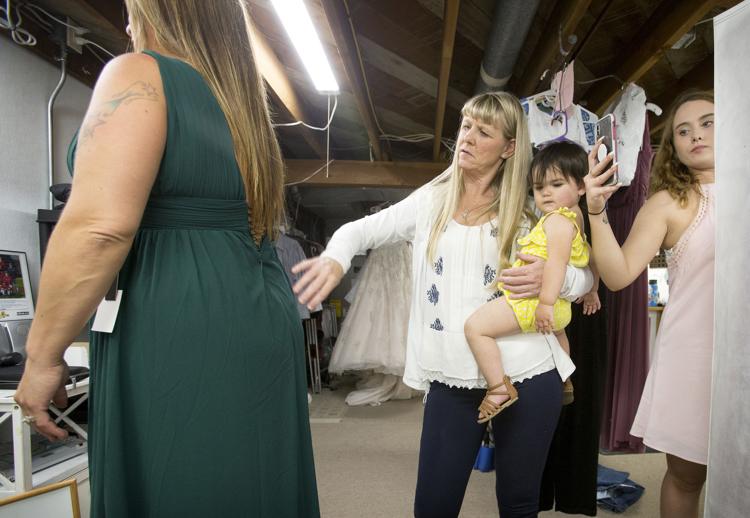 Ritter graduated from Wenatchee High School in 1983 and began working at Pacific Trail. It was line-work, she says, just doing the same thing over and over.
"It I wanted to earn a good wage, I had to exceed my levels," she says. "I competed against my own abilities. It was repetitive work but the challenge was what kept me enjoying the job."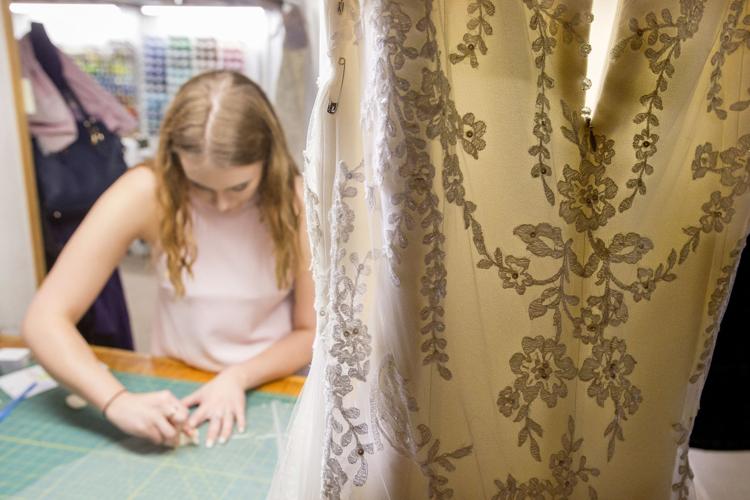 Later, she worked for JanSport, doing more line work.
In the mid 1990s, she learned of a woman who was interested in selling her sewing alterations business and Ritter began doing sewing projects for her in the evenings after her JanSport job.
"I worked for her for six months and then she sold me the business for $50," Ritter says. "She said she knew I would take very good care of her clients."
The business grew as she worked out of her home in Rock Island, then into a local dry cleaner's offices. Later, she moved into an office in East Wenatchee, then to a strip mall on Rock Island Road.
To make ends meet, she also hired on as a seamstress for Buckle in East Wenatchee.
"Between the Buckle part-time and this part-time, it made me an income," she says.
Four years ago, she figured that she could make do with just her own business but she kept working at Buckle until a year ago.
"When I started working 12-hour days consistently, I knew I had a viable business to support me," she says.
Currently, Ritter employs a hand-sewer who works about 20 hours a week.
Most days, Ritter starts work at 6 a.m. and ends sometime between 5 and 8 p.m. That is especially true during wedding season.
Ritter estimates that 85 percent of her business involves alterations for prom dresses, bridesmaid dresses and wedding gowns. Five percent is altering men's wear, with projects such as shortening sleeves, reducing shoulders and taking in sides on suit coats.
The remaining 10 percent is odd jobs such as hemming pants and skirts and replacing zippers.
Her favorite projects? Altering women's formal wear.
"Oh, they are so much fun," she says. "They provide a challenge and I love when I succeed on something that, at times, you're not really sure it's going to work, but it just does. There are times when I go to bed at night not sure something is going to work and I wake up with an answer."
About 1 percent of the time, she says, she can't help someone, possibly because they bought a dress designed for someone with a long torso, and the woman has a short torso. She says she has a good relationship with some of the formal wear stores in town and can usually talk the owners into taking that type of gown back and replacing it with something more fitting.
Ritter is a member of the Wenatchee Central Lions Club, which puts on the Apple Blossom Festival queen pageant. She volunteers to alter gowns and other royalty clothing for the queen and her two princesses.
This spring, she also downsized eight adult uniforms so they would fit young children in the Little Chiefs program.
"It was eight hours per uniform so it was quite a bit of work but those kids are amazing," she says. "They are children with handicaps or life-threatening illnesses, all nominated by their schools. They get to see what the uniform looks like at the start and then they can stand in front of the mirror later and see that it fits them perfectly. They are so excited and so proud."
Sewing, says Ritter, is relaxing.
"It can be very high pressure and high stress but I must thrive on stress and pressure because I just don't miss a beat; I just go. It makes me happy to know that I am making a difference in someone's life, especially if it is for their wedding day. There is no greater satisfaction than watching those brides just beam when their dresses fit them perfectly."