WENATCHEE — Patrick Haglund is good at keeping secrets.
Often, he and his four employees are the first to know who's getting an award for sports acumen, corporate know-how or good deeds in the public service sector.
"We have to keep secrets around here," says the owner of Haglund's Trophies in Wenatchee.
And that makes his job fun.
"When people come in to the store, they want to recognize someone, and we get to help them be a part of that process," he says. "It's really great to see all the wonderful things that people are doing in the Valley."
Haglund is a second-generation trophy-maker. He bought the business from his dad, Jim Haglund, in 2012. But Patrick really started in the business as a teenager.
"I'd be here in the summers, working," he says.
Patrick says his father never pressured him to take over the business but encouraged him as he got an education degree from the University of Idaho and went into teaching.
But in 2008, while living in Spokane, Patrick started realizing that his father was thinking about retirement and the younger Haglund made the move back to Wenatchee. He started full time at the store in 2008.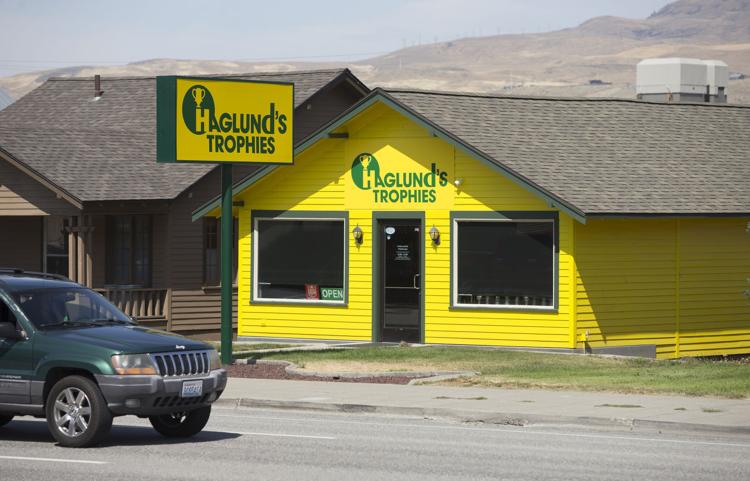 The store on Chelan Avenue is chock full of trophies, plaques, and samples of corporate name tags and signs.
The Haglunds say lasers have made creating words and logos much easier than in the late 1970s, when Jim Haglund started the business. With the lasers, Patrick says, the business is able to make panel labels for electricians and it has done projects for server farms in Quincy "where they have to label where all the wires are."
In the store, many trophies look similar to ones made in the'70s, but figurines and toppers are no longer cast-metal but gold-colored plastic. There are also more choices than the typical base with a figurine. Manufacturers are putting out trophies with lots of bells and whistles. Baseball trophies can include balls, bats and mitts. And soccer trophies can be a couple of feet tall with gold-colored bases and large ceramic balls on top.
Prices range from $3 or $4 for a simple trophy to $400 for something bigger and more complex, possibly in crystal.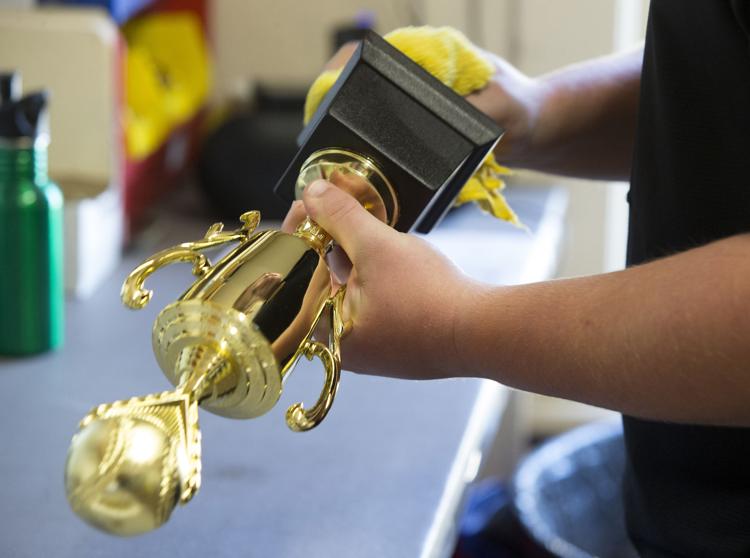 Popular for youth sports are trophies with pull-off wrist bands, trophies with removable Nerf balls, and trophies that glow in the dark.
Patrick says sports awards are cyclical but mainstays of the business now are corporate awards, name plates and name tags, along with service club awards.
All, Patrick says, are priced to compete with online sellers. Haglund's also promotes its speedy service.
"The way we compete is service," Patrick says. "We're here locally and we'll take care of you. Most trophy and award companies have a five- to 10-day turnaround. If you come in here and say that you need it this afternoon, I will do everything to make sure I get it done for you."
He says he also has many popular products in stock, and relies on a "good supply chain" when he needs product fast.
Patrick notes that Haglund's also has a web site, where people can order online.
"What really keeps us going is our relationships with our customers — schools, service clubs, local businesses and sports groups," he says. "We make sure to take care of them and they've been very loyal and we appreciate that."