As March turned to April, the personal and economic impacts of COVID-19 continued to spread. The Chelan-Douglas Health District on March 24 reported the first virus-related death of a Chelan County resident — a 91-year-old man being treated at Central Washington Hospital. 
It was the second death at CWH attributed to the respiratory illness that had been working its way around the globe since December. A Quincy resident died March 7. The first case in the state had been reported Jan. 21 in Snohomish County. The first death in the state was reported Feb. 29 in Kirkland.
News of the first local death followed a string of additional "positive" test results that included more residents and staff at assisted living facilities in Wenatchee and East Wenatchee. Further reports showed the virus had found its way into the general population as well. Health officials encouraged people to comply with  preventive measures, limit social contact and not gather in groups — even outdoors. 
Gov. Jay Inslee on March 23 issued a two-week "Stay Home, Stay Safe" order banning all gatherings and closing non-essential businesses unable to make arrangements for employees to work remotely. It took effect March 25 and later was extended to May 4.
On March 26, the Chelan-Douglas Health District launched a webpage to track COVID-19 cases in the two counties. The tracking is needed, according to the experts, to help determine when social distancing requirements and work restrictions might be lifted.
By mid-April, the push was on to do just that. The lag between exposure and symptoms, testing and results was wearing on the commitment to ordered precautions. Amid calls for increased testing, residents and business owners alike expressed frustration and anxiety in dealing not only with health and safety concerns, but with the economic impact of shuttering businesses. Talk of "flattening the curve" of the virus' spread competed with the learning curve required to file for unemployment benefits and promised financial assistance.
In the midst of the frustration, the community responded. Individuals and businesses donated food and supplies to help those struggling with the basics during the shutdown and those on the front lines.
Inslee, in an April 21 address, laid out how he expects the shutdown to turn into a restart, cautioning it will be slow, with first steps depending on science rather than politics. It might not get rolling before May 4, he said, promising details in the coming days and weeks.
The Wenatchee Valley Business World provided a look at events leading up to the shutdown in the April issue. Here's a recap of the second wave of COVID-19 events, following the "Stay Home, Stay Safe" order through Inslee's announced plan for recovery:
Wednesday, March 25
The Chelan Douglas Community Action Council, the area's largest supplier of food to food banks, Serve Wenatchee, Christ Center Chaplains and local churches begin storing food at the Town Toyota Center in preparation for a drive-thru model.
"We know that the need for support services for vulnerable families will be needed in the weeks and months to come but for now, the most pressing need is for the supply of food delivered in a responsible way to prevent further spread of COVID-19," said Thom Nees, executive director Serve Wenatchee Valley. "Creative partnerships like this one reveal our community's shared desire to respond compassionately."
Thursday, March 26
The state Employment Security Department announces it received 1,473 claims from Chelan County for the week of March 15-21, up 1,239% from the previous week's total of 110, according to raw data.
Douglas County residents filed 539 claims, an increase of 1,072% from the previous week's total of 46.
"This data shows the enormity of the situation unfolding in our state," Employment Security Department Commissioner Suzi LeVine said. "The velocity and volume of the impact of COVID-19 has created a crisis that is unprecedented in the history of the program — going back to the 1930s when it was established."
Essential or not essential?
Gov. Jay Inslee issues new guidance to his "Stay Home" order that halts nearly all residential and commercial construction across the state.
Inslee's original order closed all "non-essential" businesses, but left uncertainty about which construction projects would be allowed to continue. The new guidance clarifies that most projects need to halt to slow the spread of COVID-19.
Saturday, March 28
Medical supplies on order
Confluence Health receives 50 ventilators from the state, more than doubling its capacity to treat COVID-19 patients with severe respiratory problems.
"That is a big deal. That's going to save scores of lives," Chelan-Douglas Health District Administrator Barry Kling said.
Local health care providers and emergency medical services in Chelan and Douglas counties were still waiting for unfilled orders of tens of thousands personal protective equipment items.
Monday, March 30
A second Chelan County resident, an 85-year-old patient at Confluence Health, dies from COVID-19.
Wednesday, April 1
Ten members of the Washington National Guard are deployed to help distribute food at the Town Toyota Center, where local food banks joined forces.
The guardsmen, requested by the U.S. Department of Agriculture, will not be used in a law enforcement role to enforce restrictions ordered by Gov. Jay Inslee. 
Confluence Health employee tests positive
A Confluence Health employee is diagnosed with COVID-19, the first known health care worker in Chelan or Douglas counties with the illness.
Thursday, April 2
'Stay Home, Stay Healthy' order extended
Gov. Jay Inslee extends the statewide stay-at-home order to May 4.
In his announcement, Inslee says steps taken to slow the spread of COVID-19 are working but Washington has yet to experience the full toll of the virus.
"We will not sacrifice the lives of Washingtonians by ending these measures too soon," Inslee tweeted.
Inslee also takes step to increase unemployment insurance access; prohibit evictions due to unpaid rent; provide utility payer assistance; and to make more flexible tax payments.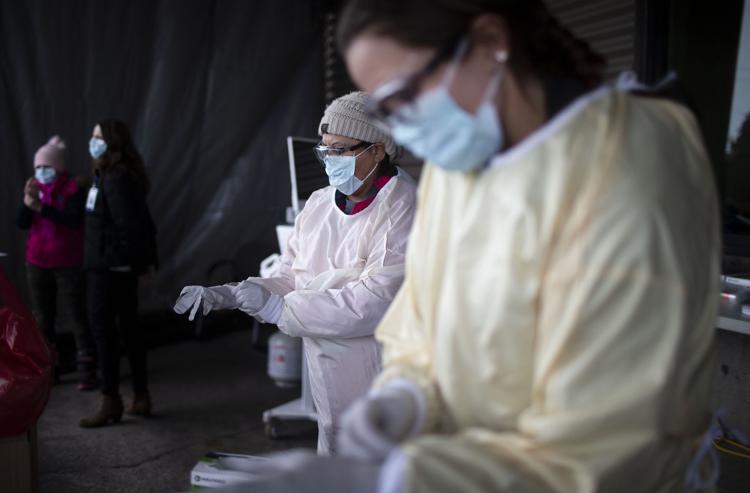 Friday, April 3
Confluence Health expands ICU capacity, reopens drive-thru testing site
Confluence Health doubles its intensive care unit capacity to treat up to 40 COVID-19 patients with severe respiratory issues who may require ventilation.
The organization also reopens its drive-thru testing site and has around 1,300 testing kits on hand, Chief Medical Officer-elect Jason Lake said. Otherwise-healthy people with respiratory infection symptoms can once again be tested at the site, which was closed two weeks earlier due to a lack of testing supplies and long turnaround times. While it was closed, only seniors and people with underlying health issues qualified for testing.
Saturday, April 4
The Chelan-Douglas Health District sends a warning letter to essential businesses imploring them to enforce recommended guidelines to slow the spread of COVID-19.
"... businesses which fail to fully and effectively implement social distancing guidelines immediately will be closed ... until such time as they give reason to believe they are able and willing to abide by these critical requirements," the health district said in its letter.
Monday, April 6
State closes schools through June
Gov. Jay Inslee announces schools will remain closed and students will continue distance learning through the rest of the school year.
Initially, Inslee called for a six-week closure through April 24 to help slow the spread of the novel coronavirus. The closure includes all public and private K-12 schools.
"We can't risk losing the gains made after the peak of the pandemic presumably has passed," Inslee said of reopening the schools. "This will allow educators to put their full energy and talent on the best way to provide for students in these circumstances."
Reopening school buildings too soon likely would result in having to close them again for weeks at a time if a student or teacher is diagnosed with COVID-19. Instead, the focus will shift to figuring out how to improve distance learning. That includes working with internet providers and software leaders to connect teachers and students, Inslee said.
State Superintendent of Public Instruction Chris Reykdal said the question of whether school will return in the fall can't yet be answered.
Chelan County orders vacation rentals, Air B&Bs and campgrounds to close
Chelan County orders owners and operators of short-term vacation rentals, Air B&Bs and campgrounds, among others, to cease operations or face a $500 per day fine.
According to the declaration signed by County Commissioners Doug England, Bob Bugert and Kevin Overbay, the action follows multiple instances where short-term vacation rental owners and operators disregarded requests by Chelan County and the Chelan-Douglas Health District to stop renting "to people who do not need alternative residential accommodations to assist them in the performance of their essential worker duties during this emergency."
The concern, according to the commissioners, is "an influx of people coming to Chelan County from higher populated urban centers and counties" in search of better access to medical and other public facilities, groceries and services, placing added stress on resources.
Pangborn drops to one daily flight
Alaska Airlines announces Pangborn Memorial Airport's three flights a day will be cut to one flight a day as it contends with record-low passenger volume.
Tuesday, April 7
COVID-19 isolation shelter opens
The area's first designated shelter for people who need coronavirus-related isolation begins operation.
The 50-bed shelter in East Wenatchee is managed by Serve Wenatchee Valley.  Its first clients were a mother and daughter. Most of the isolation shelter's clients will need referrals from a health care provider or the Chelan-Douglas Health District.
Up to $10,000 available for small businesses
The Working Washington Small Business Emergency Grant program is introduced that can provide up to $10,000 to businesses with no more than 10 employees. The total available in the grant pool is $5 million, and funding comes from Gov. Jay Inslee's Strategic Reserve Fund.
With a significant amount of businesses closed or cutback due to COVID-19 restrictions, Shiloh Burgess, executive director of the Wenatchee Valley Chamber of Commerce, encouraged qualified businesses to apply.
Businesses are hurting, she said, and many might not recover should restrictions last into May.
"We're concerned for at least 20 percent of our businesses that they might not come back from this," Burgess said.
Wednesday, April 8
Douglas County allows some existing home construction to continue
The Douglas County Commission releases a proclamation allowing home construction projects to continue under narrow guidelines.
Thursday, April 9
Weekly unemployment claims plateau
Initial area unemployment claims plateau after a historic two-week climb. A combined 2,742 initial claims were filed in Chelan and Douglas counties in the week of March 29 to April 4, according to Employment Security Department data. That's up slightly from the 2,649 initial claims filed the week before.
The highest number of claims were filed in the construction, retail trade, and health care and social assistance industries.
L&I issues safety rules for grocery stores and more
The state Department of Labor & Industries issues specific measures for grocery and retail stores to follow to prevent the spread of COVID-19.
The new guidelines are in addition to general workplace measures the agency provided in March.
The guidelines strongly recommend hand sanitizer dispensers for customers and making sure those handling money and retrieving carts are wearing gloves, and marking on the floor and enforcing 6-foot increments at checkout stands. It  includes specifics for cleaning and sanitizing stores, recommends stocking and deep cleaning while the store is closed, and suggests prohibiting the use of reusable shopping bags.
L&I also issues guidance for janitorial workers, the trucking industry, long-term care workers, and the construction industry. The agency is consulting with advocates for agricultural workers and the farming industry on agricultural guidance and expects to release it soon.
Saturday, April 11
Confluence Health Foundation receives more than 2,000 homemade masks and 100 homemade gowns from community members.
In addition to the homemade supplies, the foundation received around 7,000 manufactured masks, 15,000 pairs of gloves and 50 cases of hand sanitizer from community donations.
The supplies were distributed across the organization and to several area long-term care facilities. Supply donations are still being accepted.
Sunday, April 12
First Douglas County resident dies
A Bonaventure Senior Care resident with COVID-19 dies, marking the first death of a Douglas County resident diagnosed with the virus.
The facility has two other residents with COVID-19.
Two Bonaventure employees also test positive for the virus and are under isolation at home.
Monday, April 13
Chelan PUD postpones scheduled rate increases
The Chelan County PUD commission votes to delay scheduled power rate increases for six months due to COVID-19.
Changes to residential electric, water and wastewater rates will now take effect Dec. 1. They were previously scheduled to begin June 1.
The commission also extended the policy of waiving late fees and not shutting off utility service through the end of July.
The utility is also considers expanding its financial assistance programs to help residents and businesses and PUD staff are pursuing a program to assist small business owners.
Power use in the county has seen daily declines of up to 12% since Gov. Jay Inslee issued his Stay Home, Stay Health order in early March.
Tuesday, April 14
Douglas County numbers jump
Eleven new COVID-19 cases are reported in Waterville, the highest single-day jump in any NCW county since the outbreak began.
The new cases are connected to a single private residence in the town, Chelan-Douglas Health District Administrator Barry Kling said.
The jump brings Douglas County's total confirmed cases to 27, with 61 in Chelan County.
Thursday, April 16
Okanogan and Douglas counties pass lodging bans
Okanogan and Douglas counties join Chelan County in banning short-term rentals and other housing for the foreseeable future.
All three counties expressed a concern of an influx of people overwhelming rural medical resources. The resolutions between the counties differ in the industries they target or the extent of the closures, but all three have some sort of ban on the use of short-term rentals.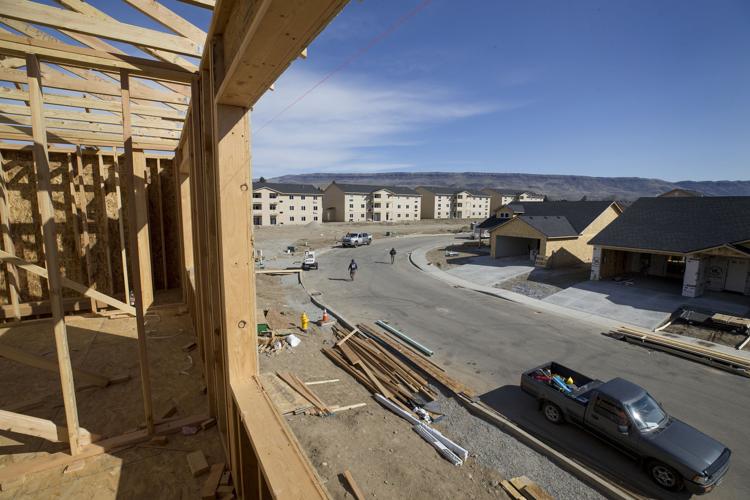 Friday, April 17
Construction proclamation
The Governor's office pushes back against North Central Washington counties and cities attempting to restart construction amidst the COVID-19 quarantine.
Letters are sent to Chelan and Douglas county commissions telling them the proclamations allowing pre-existing home sales to continue construction are not in compliance with the state's "Stay Home, Stay Healthy" order and violate state law.
Tuesday, April 22
Emergency COVID-19 grants fall short
More than 800 businesses in Chelan and Douglas counties apply for emergency COVID-19 relief grants from the state — but less than 5% are likely to receive funding.
36 Stemilt employees test positive for COVID-19
Half of the 71 agricultural workers in a Stemilt Ag Services housing facility near East Wenatchee test positive for COVID-19. All 36 were asymptomatic prior to testing and are now isolated in the housing facility.
It's one of the first wide-scale tests of asymptomatic people in North Central Washington and believed to be the first of agriculture workers.
Counties redraft construction proclamations
Both Chelan and Douglas counties rework their construction proclamations to bring them in compliance with the Governor's Stay Home, Stay Safe order, but still push to allow some construction work.
Inslee announces recovery plan
Gov. Jay Inslee, in a statewide address, opens the door for certain activities to resume … soon ... including elective surgeries, some outdoor recreation and construction.
"It will look more like the turning of a dial than the flip of a switch," he said of any moves to restart the economy, and many restrictions likely won't be lifted by the May 4 deadline he previously set.
Inslee said the state will start by implementing widespread testing. A rapid response team of 1,500 state employees will focus on contact tracing.
He cautions that lifting restrictions too soon could increase the spread of the virus.
"To turn back on this successful, temporary approach now would be disastrous," he said.